Yeast Waffles

(6 servings)

1/2 cup warm water (110 degrees optimal)
1 quarter-ounce package of active dry yeast
2 cups milk (low-fat works fine)
3 cups sifted all-purpose flour
1/2 cup butter - melted
2 Tablespoons sugar
1 teaspoon salt
3/4 teaspoon vanilla
1/2 teaspoon cinnamon (optional)
2 large eggs - lightly beaten
1/2 teaspoon baking soda
This recipe made excellent waffles. As a matter of fact, my wife said they were the best waffles that she'd ever had. It was fun watching the waffle batter do it's thing. You leave the (mostly) prepared waffle batter on the kitchen counter overnight. If you check on it, you can see the dough expand from the yeast as the oxygen produced pushes up the plastic wrap over the bowl. In the morning, you stir in some beaten egg and an additional boost of leavening with baking soda and you're ready to make breakfast. I found these waffles very fluffy and light on the inside and pleasantly crisp on the exterior. All in all, it was a very successful recipe test. The waffles seen here were topped with butter, maple syrup and a drizzle of homemade butterscotch topping. (This recipe was submitted in 2007. It was tested and photographed in September 2013.)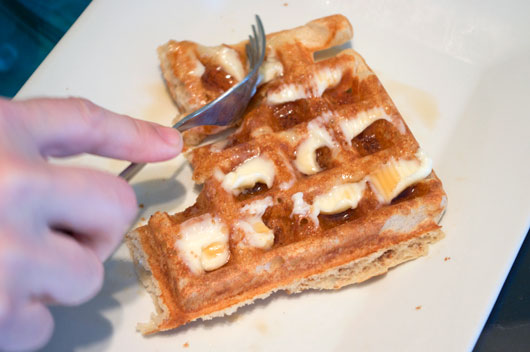 How To Make Yeast Waffles

In a small bowl, dissolve the yeast in a small bowl. Let it stand 10 minutes until creamy.

Warm the milk in a sauce pan over medium-low heat until it's about the same temperature as the warm water.

In a large bowl, combine the yeast mixture, warm milk, flour, melted butter, sugar, salt, vanilla and cinnamon. Beat until the batter is smooth.

Cover the mixture and set out at room temperature overnight - at least 6 hours and no more than 16.

When ready to prepare waffles...

Preheat your waffle iron.

Add the beaten eggs and baking soda to the batter and beat until well-combined.

Cook according to the directions for your particular waffle maker. (My waffle maker makes perfectly golden brown waffles if I set the the heat one notch above medium.)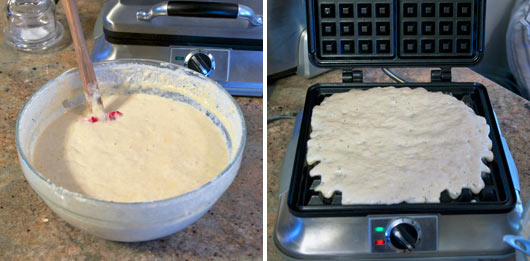 Cooking Note From Mr Breakfast:

I used a Cuisinart 4-Slice Belgian Waffle Iron to make my waffles. It took about 1 and 2/3 cup batter to make 4 waffles at a time. After dolloping batter in the waffle iron, I used a rubber spatula to nudge the batter to the edges. I cooked on a setting of 5 out of 6. This produced a total of 12 golden brown, delicious waffles.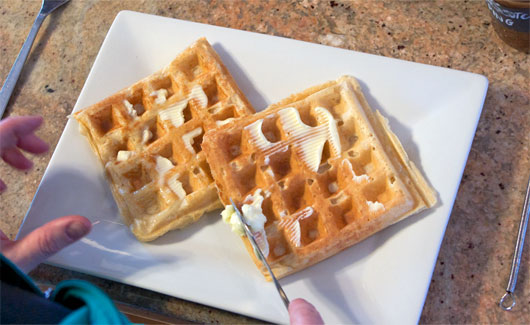 Light and crispy on the outside. Soft on the inside. Not too sweet. Perfect with syrup. Try adding a handful of mini chocolate chips to the batter for a special treat.




Mr Breakfast would like to thank Bennett for this recipe.

Recipe number 2062. Submitted 6/21/2007.