Cheesy Baked Grits Casserole (Vegetarian)

(8 servings)

4 cups low fat milk
2 cups water
1 teaspoon salt (divided)
1 1/4 cups uncooked quick cooking grits
1 cup (4 oz) shredded Parmesan cheese
1/2 teaspoon black pepper
5 large egg whites
6 Tablespoons chopped fresh chives (or green onions)
2 teaspoons butter (melted)
cooking spray
The great thing about this casserole is that you can basically taste it and adjust it before you bake it. After the grits are cooked and you add the cheese and seasonings, be sure to try a spoonful. I added a Tablespoon of butter and little more black pepper to get the taste I wanted. The one thing I would be leery about with this recipe is the amount of time you let the grits cool before folding in the egg whites. I let it cool a good 30 minutes, because I didn't want to risk having hot grits cook the egg before the oven has a chance. All in all, this casserole was very tasty, very satisfying and very awesome. The other dish you see in the pictures is a Kentucky Scramble. (The recipe on this page was submitted in 2006. It was tested and photographed in April 2014.)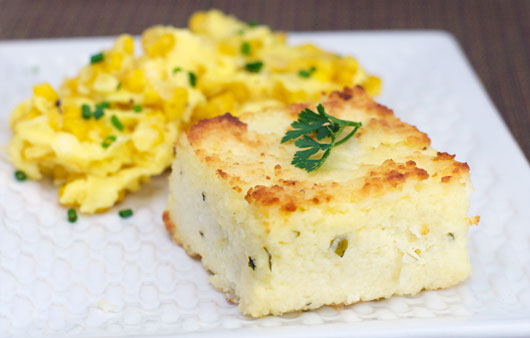 How To Make A Vegetarian Cheesy Baked Grits Casserole

Preheat oven to 350F. Combine milk, water and 1/2 teaspoon of salt in a medium saucepan over medium-high heat; bring to a boil. Add grits, stirring with a whisk. Cover, reduce heat to low and cook 8 minutes or until liquid is absorbed. Remove from heat. Stir in 1/4 teaspoon salt, cheese and pepper. Cool 15 minutes.

Place remaining 1/4 teaspoon salt and egg whites in a large bowl and beat with a mixer at high speed until stiff peaks form. Gently fold grits into the egg whites and add the chives. Spoon mixture into a 13x9" baking dish coated with cooking spray. Top the grits with the melted butter. Bake at 350F for 40 minutes or until browned. Let stand 10 minutes before serving. Yields 8 servings (approx 1 cup.)

Serve with fried eggs and vegetarian sausage or bacon.

220 cal. 6.7g fat.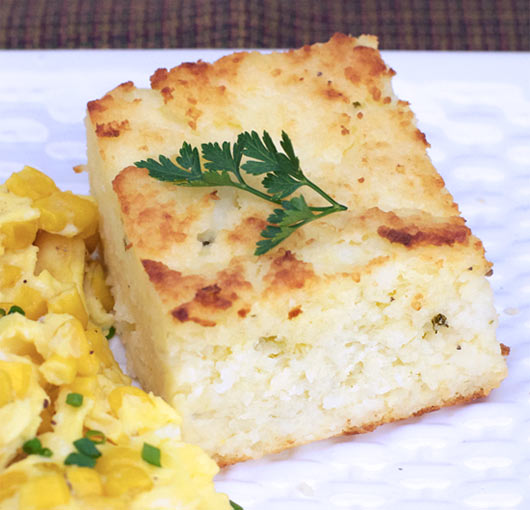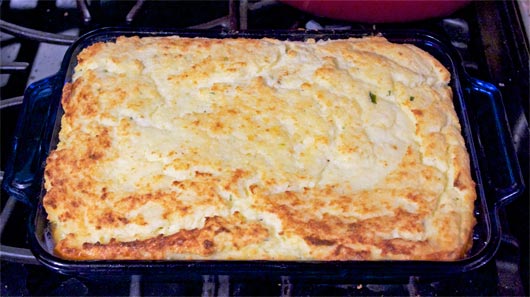 To save time, cook grits the night before, adding the seasoning and cheese. Cover and refrigerate. In the morning, beat the egg whites and finish assembling the casserole.




Mr Breakfast would like to thank mrbreakfast_lvr for this recipe.

Recipe number 1870. Submitted 10/27/2006.