Cheese Grits Casserole

(6 servings)

1 and 1/4 cups sharp Cheddar cheese
1 cup quick-cooking grits
3/4 cup chopped green pepper
1/4 cup chopped onion
2 Tablespoons butter
3 large eggs - lightly beaten
1/2 teaspoon salt
I liked this quite a bit. I served the casserole with Ham With Red Eye Gravy. As submitted (ingredients above), this is a terrific recipe. However, I think it could be even better with a couple minor changes. I'd add a little more cheese into the grits next time - maybe a half cup more. I'd also add a couple Tablespoons of canned diced green chiles. The onion and green pepper are great, but it could use just a little more spark and spice. With those changes, I would definitely make this again. (This recipe was submitted in 2006. It was tested and photographed in October 2015.)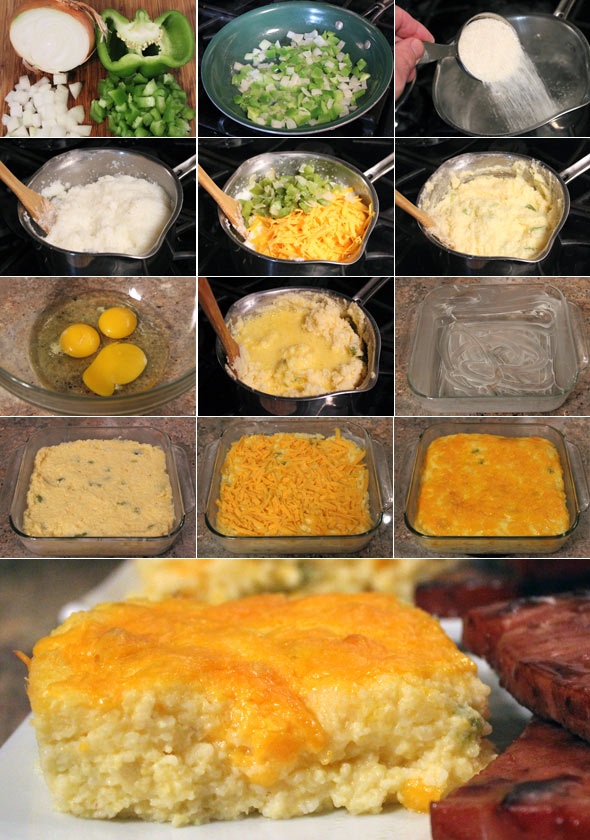 How To Make A Cheese Grits Casserole

Prepare the grits as directed on the package. (My instructions were to use 4 cups water for 1 cup grits). Cover and set aside.

In a medium-skillet at medium-high heat, cook green pepper and onion - stirring often - until vegetables begin to get tender - 6 to 8 minutes.

Preheat oven to 350 degrees.

In a large mixing bowl, mix together cooked grits, cooked vegetables, butter and about 3/4 of the cheese. Allow mixture to cool and then add beaten eggs and mix well.

Pour mixture into a lightly greased 8 or 9 inch baking dish. Sprinkle remaining cheese evenly over the top.

Bake for about 30 to 40 minutes until center of of casserole is set.

Let cool slightly before serving.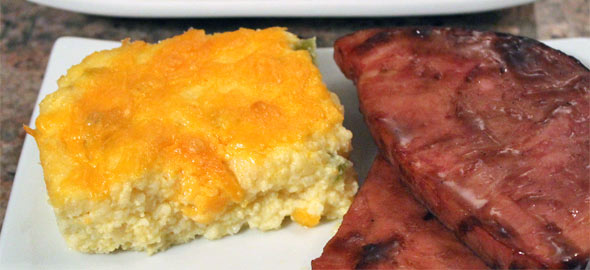 An easy-to-prepare grits casserole with green pepper, onion and lots of Cheddar cheese.




Mr Breakfast would like to thank Heather_S for this recipe.

Recipe number 1637. Submitted 1/20/2006.