Baked Breakfast Nachos

(4 servings)

3/4 pound chorizo Mexican sausage
4 large eggs
2 or 3 handfulls tortilla chips
1 cup sharp cheddar cheese
1 small onion - diced
1 Tablespoon butter
1 Tablespoon water
2 teaspoons butter
your favorite salsa
1 pinch salt
This dish was satisfying and tasty but it couldn't decide if it was a weird, partially-inverted plate of nachos or a nacho-inspired casserole. For my money, I prefer Basic Breakfast Nachos where the eggs are scrambled (maybe with cooked sausage), placed on corn chips, covered with cheese and placed under the broiler for a minute. For more of a baked casserole that uses chorizo, try our Mexican Breakfast Quiche which is near perfect, compared to this just-alright recipe. I ate and enjoyed these Baked Breakfast Nachos, but I doubt that I'd make it again. (This recipe was submitted in 2005. It was tested and photographed in March 2017.)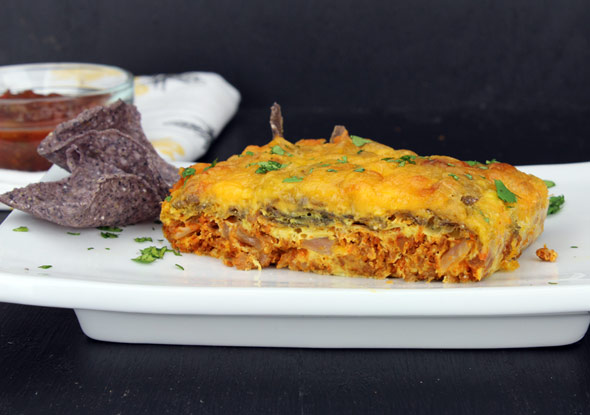 How To Make Baked Breakfast Nachos

Preheat the oven to 350 F.

In a large skillet at medium-high heat, fry the chorizo sausage. When fully browned, remove the chorizo from the skillet with a slotted spoon and drain it. Set aside on folded paper towels.

Reduce stove top temperature to medium and saute the onion in the grease left from sausage - for about 10 minutes - until carmalized.

Prepare a large casserole dish by coating the bottom and sides with softend butter. Place casserole dish in oven to preheat. (This will help assure that your eggs set.)

In a mixing bowl, lightly beat the eggs with the Tablespoon of water and pinch of salt. Add the sausage and stir to combine.

Remove the prepared baking dish from the oven and add mixture from the bowl. Top with enough tortilla chips to create a thick layer above the egg mixture. Layer the cooked onion and cheese on top of the chips.

Bake in preheated oven for 10 to 12 minutes - until eggs are fully set.

Top with salsa and serve.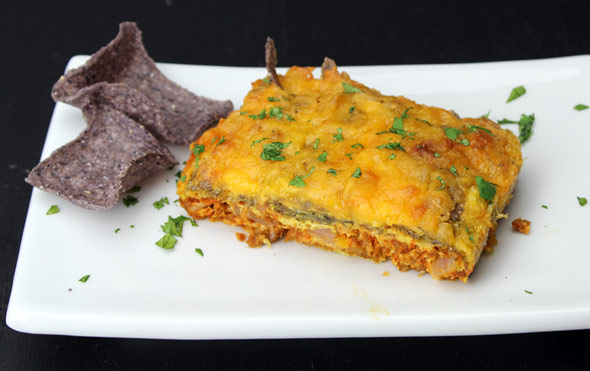 This is a fun recipe to create your own variation. Try replacing the the chorizo with 12 strips of bacon - crumbled. Try skipping the carmalized onions and serve with with fresh chopped green onion. The sky is the limit.




Mr Breakfast would like to thank Mr Breakfast for this recipe.

Recipe number 1562. Submitted 10/25/2005.