Blueberry Syrup

(12 servings)

2 cups blueberries
1/2 cup sugar
1/4 cup water
1/4 cup light corn syrup
1 Tablespoon cornstarch
2 teaspoons lemon juice
This recipe was submitted as a "syrup", but it's far more appropriate to call it a topping. Whole blueberries remain mostly intact as they swim in a thick, flavorful blueberry syrup. I increased the amount of cornstarch to 2 Tablespoons to get the thickness I wanted. I made mine in a sauce pan on the stove. I'll include directions for that method under the original microwave recipe. As for taste, this topping is fantastic. I had it on Whole Grain Blueberry Waffles for a double blueberry experience. I'm looking forward to having it in oatmeal tomorrow. Tip: Instead of using plain old water, use the flavorful liquid that drains from the thawing frozen berries. Good stuff! (This recipe was submitted in 2004. It was tested and photographed in April 2014.)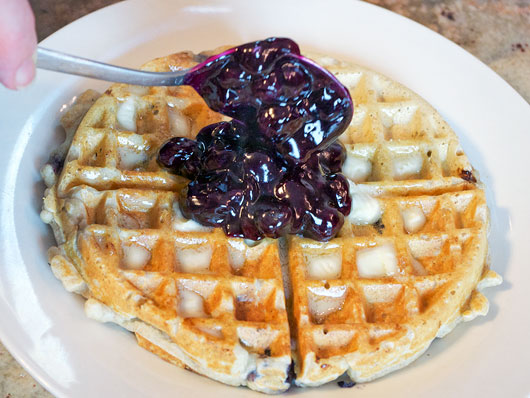 How To Make Whole Berry Blueberry Syrup

In a 1 quart microwave-safe container, combine the sugar with the cornstarch. Stir in water, corn syrup and lemon juice. Add blueberries and stir.

Microwave on full power for 5 minutes or until thickened (check after 4 minutes).

Stores well in sealed container in refrigerator for a week. Best to reheat 45 seconds in microwave before using.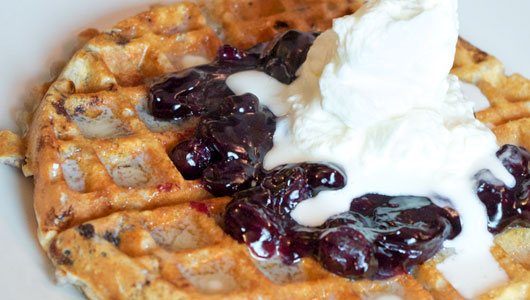 Stove Top Directions:

In a saucepan over medium heat, combine the water, sugar and cornstarch. Stir until all specks of cornstarch are incorporated. Add all remaining ingredients and allow mixture to reach a low boil. Stirring often, allow the topping to boil gently for 5 minutes. Remove from heat and let set 5 minutes before using.

This makes a great syrup. If you like it thicker or thinner adjust the amount of cornstarch by a teaspoon.




Mr Breakfast would like to thank RichH for this recipe.

Recipe number 1217. Submitted 3/26/2004.