Whole Wheat Granola

(7 servings)

1 cup regular Old Fashioned oats
3/4 cup whole wheat flour
1/2 cup wheat germ
3/4 teaspoon cinnamon
1/4 cup vegetable oil
1/4 cup honey
2 Tablespoons orange juice
1/4 cup flaked coconut
2 Tablespoons sliced almonds
1/4 teaspoon salt (optional)
1/4 cup raisins
This homemade cereal was pretty good with milk, but I wouldn't recommend it as a dry granola for snacking. It's very apparent in the flavor that it was made with whole wheat. In milk, that's fine and it reminded me a little of Grape-Nuts. But when it's dry, the flavor is a bit bland. The coconut, almonds and raisins make a minor impact. I'd double the amount of sliced almond if I ever made it again. I was tempted to change the name of this recipe to Wheat Nuggets Granola. Because everything is pulsed in a blender before baking, you end up with large pieces that need to be broken up into nuggets. So in conclusion, this granola was alright but there's better similar recipes on this site. Maybe try our Basic Granola Recipe or our Coconut Granola Recipe. (The recipe on this page was submitted in 2003. It was tested and photographed in April 2017.)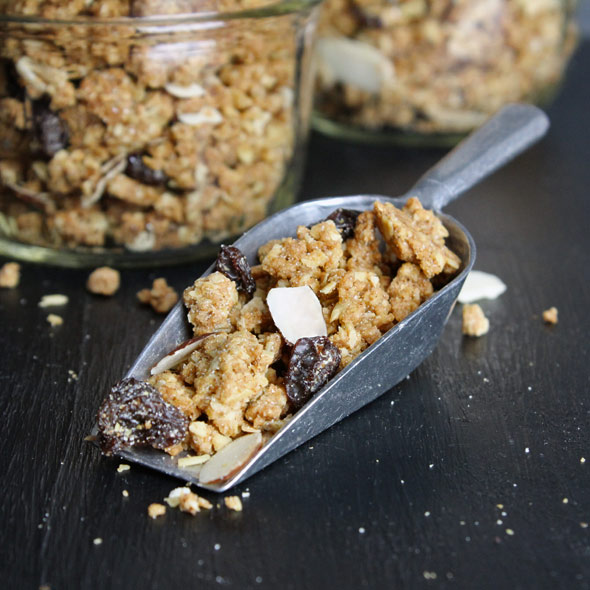 How To Make Whole Wheat Granola

Sift oats, flour, wheat germ, cinnamon and salt (if you want) together in a blender or food processor for a couple seconds.

Separately, stir together the the oil, honey, and juice. Pour over oat mixture and pulse until completely blended.

Spread this mixture evenly in a shallow well-greased pan and bake in 250 F oven for 45 minutes.

Stir in coconut and almonds and bake 20 minutes more. Cool and stir in raisins.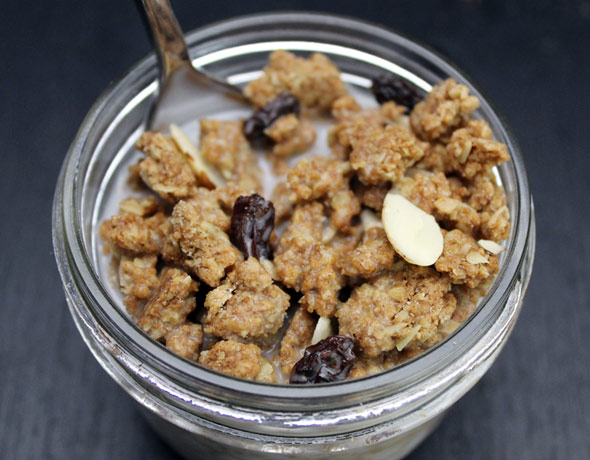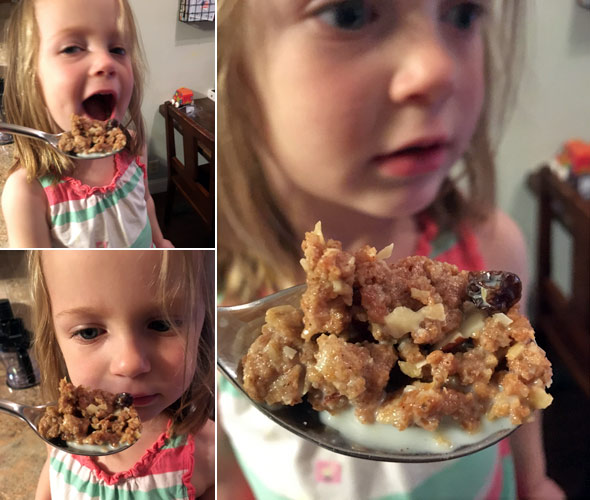 This is a modified version of a recipe I got from an old Diabetics book. It's healthy and good tasting.




Mr Breakfast would like to thank Stephanie for this recipe.

Recipe number 1154. Submitted 12/3/2003.