Brown Sugar Coffee Cake

(10 servings)

4 all-purpose cups flour
2 cups brown sugar - packed
2 cups milk
2 large eggs
2 Tablespoons butter
4 teaspoons baking powder
1/2 teaspoon salt


For The Topping:
8 Tablespoons all-purpose flour
4 Tablespoons butter
4 Tablespoons sugar
2 teaspoons cinnamon
1/3 cup chopped pecans or walnuts - optional
The top inch of this coffee cake was fantastic. The crumble topping and optional glaze (see below) are delightful, but the cake turned out a little too dry and the ratio of cake to topping was too high. At the end of the day, everyone had eaten the top off, leaving a sheet of 2 inches of cake in the pan. I tried the recipe again using some yogurt in place of the milk to add moistness, but that didn't help a whole lot. I saved that one by slitting the slices and adding a layer of jam. I'd recommend bypassing this recipe and instead trying our Starbucks-Style Cinnamon Coffeecake. It's similar to this recipe except that it works and it's reliable. (The recipe on this page was submitted in 2003. It was tested and photographed in March 2015.)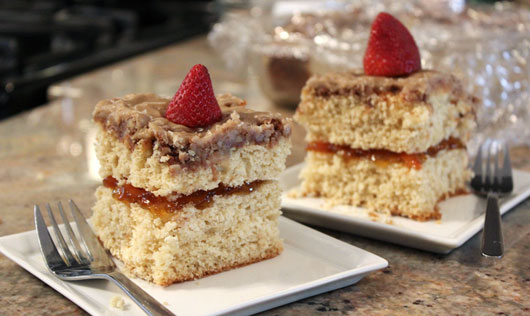 How To Make A Brown Sugar Coffee Cake

Preheat oven to 350 degrees.

In a medium bowl, make the topping by combining all ingredients until it forms a crumbly, coarse-sandy texture.

In a large bowl, mix together all the cake ingredients. Place dough in one well-greased long oblong pan or two smaller ones.

Brush the top of each pan of dough with melted butter. Sprinkle the crumb topping over each loaf.

Bake for about 30 minutes* or until it passes the toothpick test.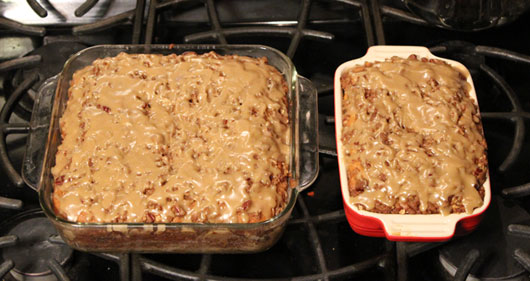 Optional Maple Glaze:

- 3 Tablespoons butter
- 1 and 1/3 cup powdered sugar
- 1 teaspoon vanilla
- 1/2 teaspoon maple extract
- 2 Tablespoon milk (or water)

Melt butter in small sauce pan. Remove from heat and stir in remaining ingredients until fluid glaze forms. Drizzle over warm coffee cake.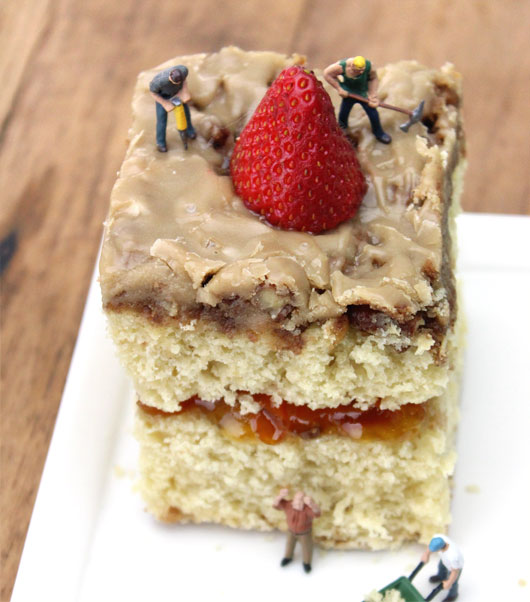 Cooking Note From Mr Breakfast:

As people have said in the comments, the cooking time is longer than the recipe submitter indicates. My cooking times were 40 minutes for a 7 x 4 1/2 pan and 50 minutes for an 8 x 8 pan.

When this is served warm, it's served with love. This coffee cake is great because most of the ingredients are things we always have on hand.




Mr Breakfast would like to thank susan for this recipe.

Recipe number 1085. Submitted 10/3/2003.