Corn Flake Banana Bread

(8 servings)

2 cups corn flakes cereal
1/2 cup all-purpose flour
3 medium mashed bananas (about 1 and 1/2 cups when mashed)
1/2 teaspoon baking powder
1/2 teaspoon baking soda
1/4 teaspoon salt
1/8 teaspoon ground nutmeg
3 and 1/4 Tablespoons butter - softened
1/2 cup sugar
1 large egg
1/2 cup of your favorite nuts - chopped
The flavor of this bread is excellent. I wasn't as big of a fan of the texture... but that's easily fixed. Parts of the bread that had large corn flake pieces were slightly chewy and inconsistent with the overall texture. Solution: Crush the corn flakes into smaller pieces before adding them to the batter. I enjoyed this bread most when it was warmed in the toaster oven and then spread with butter. If you want to use up some corn flakes, this is a terrific recipe. If you just want great banana bread, I'd stick with a more traditional recipe like our Easy Banana Bread recipe. (The recipe on this page was submitted in 2003. It was tested and photographed in February 2016.)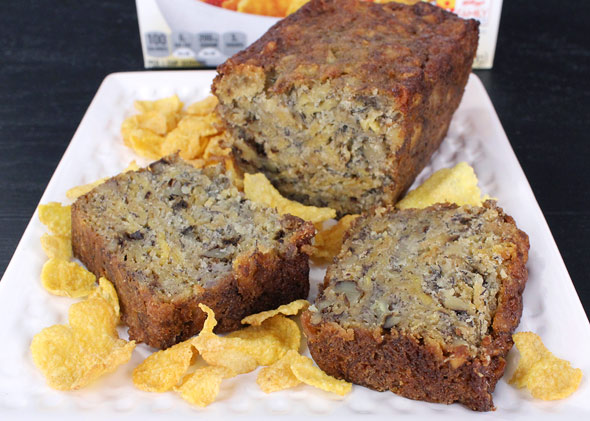 How To Make Corn Flake Banana Bread

Sift together flour, baking powder, soda, salt and nutmeg. Set aside.

In separate large bowl, beat butter and sugar until light and fluffy. Add egg; beat well.

Lightly crush the corn flakes and mix the corn flakes, mashed bananas and nuts into the butter mixture.

Add dry ingredients to wet ingredients, mixing until just combined.

Spread batter evenly in loaf pan (8 x 4-inch works well) that's well greased with butter.

Bake at 350 degrees for 50 to 60 minutes or until a toothpick inserted in center comes out clean. Let cool 10 minutes before removing from pan. Cool completely on rack.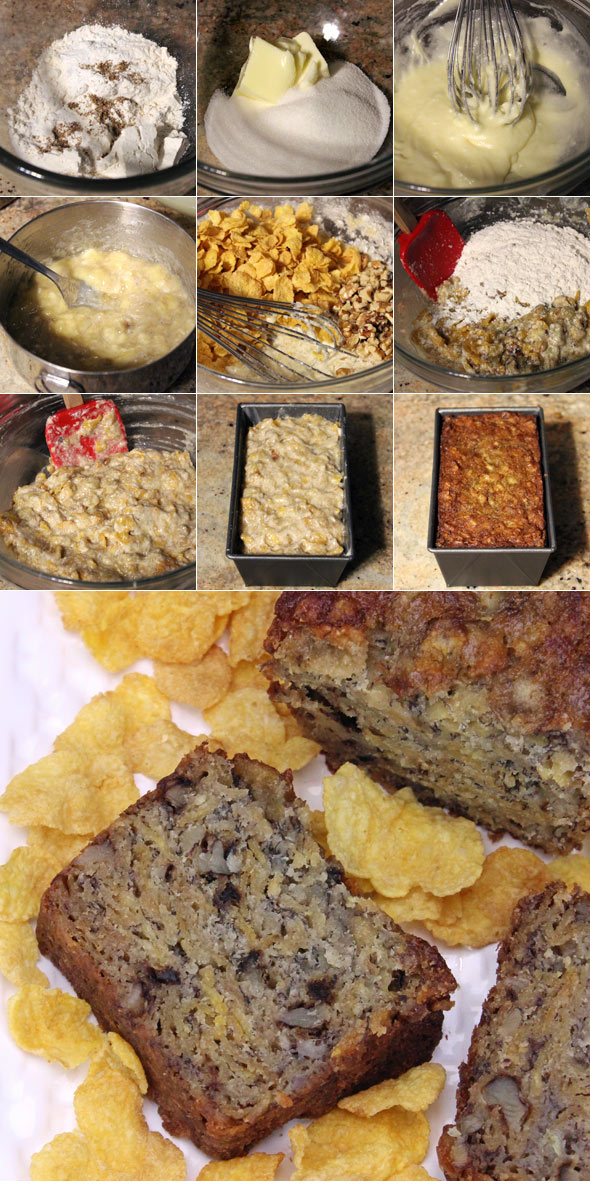 Cooking Note: If you'd like to make muffins using this recipe, fill greased or paper-lined muffin cups 3/4 full and bake at 350 degrees for approximately 30 minutes.

Corn flakes with milk? Sure, but the cereal can also be a great ingredient in recipes. Walnuts and pecans work great here.




Mr Breakfast would like to thank CornFlake for this recipe.

Recipe number 1010. Submitted 6/5/2003.