Buttermilk Biscuits

(16 servings)

2 and 1/2 teaspoons baking powder
3/4 to 1 cup buttermilk
1/2 stick real butter or 1/4 cup shortening
2 cups all-purpose flour
1/2 teaspoon salt
2 Tablespoons sugar - optional
In a large bowl, sift all dry ingredients (including sugar if using) together. Cut butter or shortening into the flour with finger tips until the consistency is like tiny peas.

Blend buttermilk a little at a time until all flour is moist and the dough can be gathered in the center of the bowl.

Turn onto a floured surface and kneed lightly until the dough is easy to work with and not sticky. Roll out and cut biscuits to your favorite size - 3/4-inch thick.

Bake at 450 degrees until golden brown - about 12 to 14 minutes. Paint with melted butter and serve hot.

Note From Mr Breakfast:
When I tried this recipe, I included the optional sugar, used butter instead of shortening and used 2 teaspoons baking powder and 1/2 teaspoon baking soda instead of 2 and 1/2 teaspoons baking powder. The biscuits turned out great!

While every day is a good day for buttermilk biscuits, there's only one National Buttermilk Biscuit Day and that is May 14th.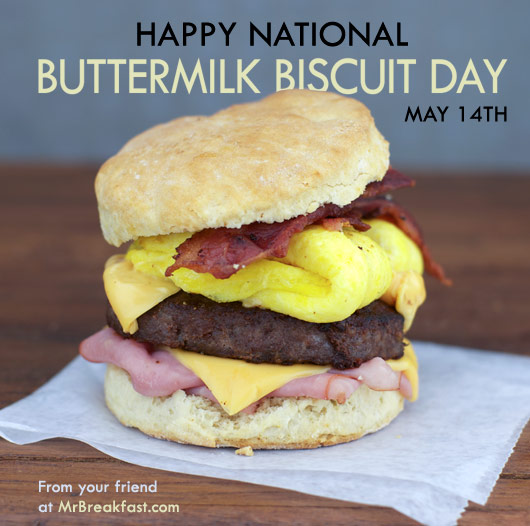 For a more in-depth look at this recipe, see my article called How To Make Buttermilk Biscuits.

A basic biscuit recipe that adds a homespun goodness to any breakfast. Very good with a sausage patty for a simple breakfast sandwich.




Mr Breakfast would like to thank Saunny for this recipe.

Recipe number 941. Submitted 4/4/2003.