Egg And Cheese Tortillas

(2 servings)

2 large eggs
2 flour tortillas
2 slices Cheddar or American cheese
salsa - optional
What if I told you that you could make a basic breakfast burrito in only 2 minutes? Hold on to your sombrero because it's totally true. Granted, these microwave burrito are nothing fancy. In a side-by-side comparison, a breakfast burrito made on the stove would win. But... these egg and cheese burritos are perfectly tasty, not to mention lightning fast. I'd recommend having some salsa standing by or spooning a couple teaspoons over the fillings before folding the burritos. Cheddar cheese works better than American cheese in this application. (This recipe was submitted in 2003. It was tested and photographed in November 2014.)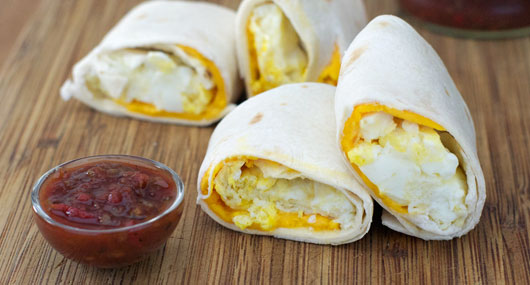 How To Make Egg And Cheese Tortillas (aka Two-Minute Breakfast Burritos)

Spray a microwave-safe bowl with cooking spray.

Beat the eggs in the bowl, pop into microwave and cook for about 90, until eggs are done. (For best results, stir the eggs after every 30 seconds).

Cut the cooked egg patty in half. Place a piece of egg and a a slice of cheese on each tortilla. Fold or roll up the tortillas to make burritos. Put into microwave for 20 seconds to melt the cheese.

Enjoy with salsa if desired.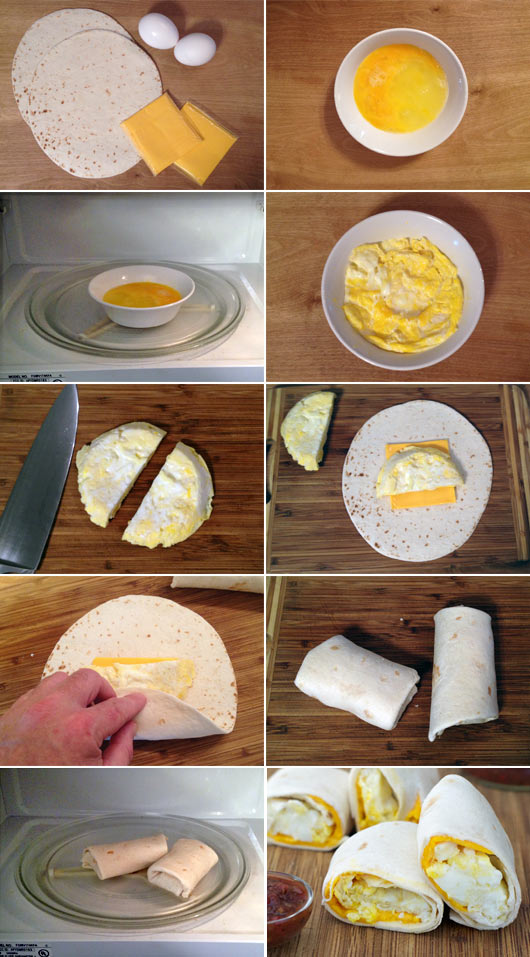 Cooking Note:

If available, a slice of pre-cooked bacon or 2 Tablespoons of leftover cooked and crumbled sausage are great additions to these burritos. Just add on top of the cheese and egg before folding the tortillas.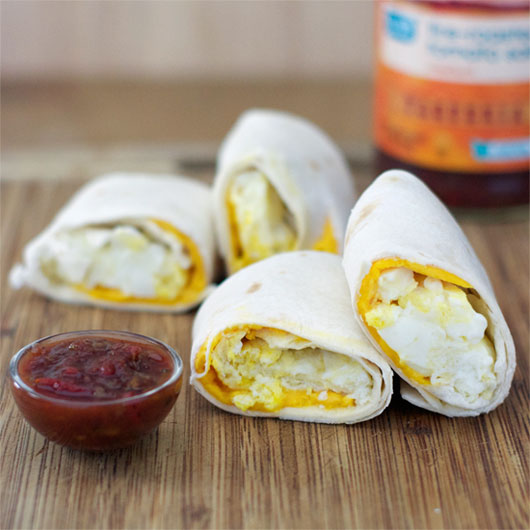 When you want a fun breakfast fast, you only need three ingredients and a microwave. Nothing fancy here. Just eggs and cheese wrapped in tortillas. Satisfying and simple.




Mr Breakfast would like to thank ggosvener for this recipe.

Recipe number 930. Submitted 4/2/2003.