Breakfast Cookies

(12 servings)

3 and 1/4 cups quick or Old Fashioned oats
2 medium bananas
1/3 cup olive oil
1/4 teaspoon salt
1/2 to 3/4 cup dates (pitted)
1/2 cup pecans or toasted almonds - chopped
1/2 cup chocolate or carob chips (optional)
A more descriptive name for this recipe would be Healthy Banana Date Oatmeal Breakfast Cookies. The beauty of these cookies is that they're sweet and indulgent without having a hint of sugar in them. Most of the sweetness comes from the dates and the bananas - especially if your bananas are quite ripe. The nuts and chocolate chips add a terrific flavor. These were a hit with both adults and little kids. Bottom Line: This recipe works and the cookies taste great. (This recipe was submitted in 2003. It was tested and photographed in May 2016.)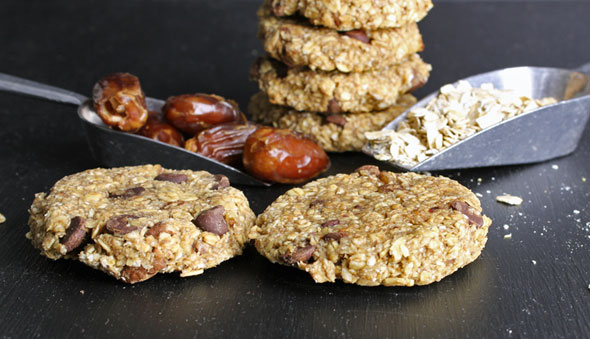 How To Make Breakfast Cookies

Mix oats and salt. Add olive oil and mix well.

In a blender, mix bananas and dates until well blended and smooth. You can add a little brown rice syrup or maple syrup if you want them sweet.

Add banana mixture to the oats and blend well. Add nuts and carob if you like. Let stand for half an hour.

On an ungreased cookie sheet, form cookies (they will not spread or change at all with baking, so make them nice!) ;)

Bake in a preheated 350 degree oven for 12 to 15 minutes.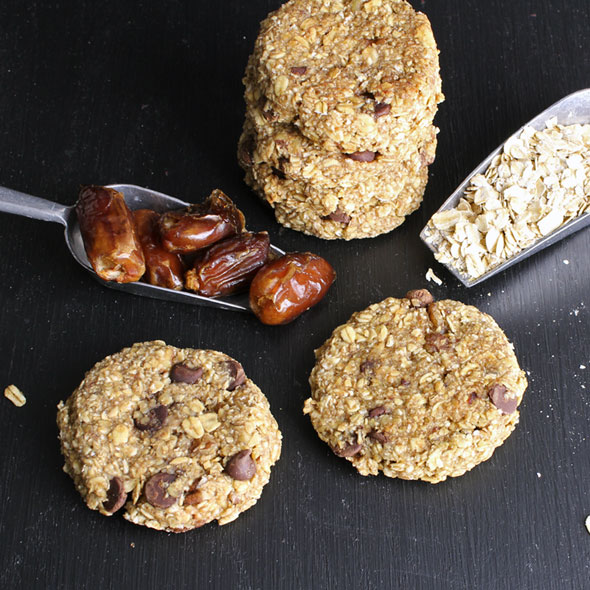 Cooking Notes From Mr Breakfast:

For the nuts, I opted to use chopped pecans. For the oats, I used half Old Fashioned and half quick oats. I used chocolate chips instead of carob chips.

For me, this recipe yielded fourteen 1/2-inch thick cookies that were 2 and 1/2-inches round. I used a round biscuit cutter to mold the cookies.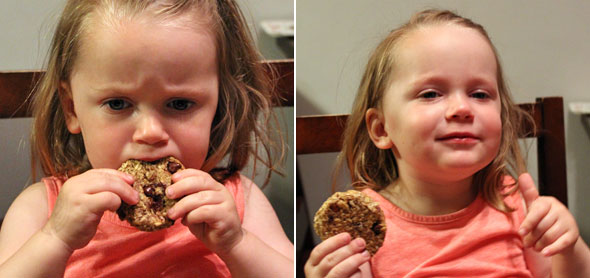 If you can think of a more fun way to get your oats and banana in the morning, I'd love to know. Feel free to use any favorite nut. We like almonds or walnuts.




Mr Breakfast would like to thank nikkimack for this recipe.

Recipe number 869. Submitted 3/28/2003.