Delicious Gluten-Free Crepes

(5 servings)

1 cup brown rice flour
egg substitute for 3 eggs
1/4 to 1/2 cup water
1 to 2 Tablespoons vegetable or canola oil
I was surprised how much I liked this recipe. Their flavor and consistency was on par with crepes made with regular flour. The best surprise was that they were easier to work with than many other crepe recipes I've used. I did have to add about 1/3 cup more water to get the batter consistency I wanted. You're looking for a consistency similar to a commercial pancake syrup.

I filled and topped my gluten-free crepes with Nutella, which is also gluten-free, FYI. The only word of caution I have is that these crepes become chewy when left out for more than 20 minutes. I would not make them for storage and use later. I will, however, be making them again for immediate eating. Thanks to 'nikkimack' for submitting a winner.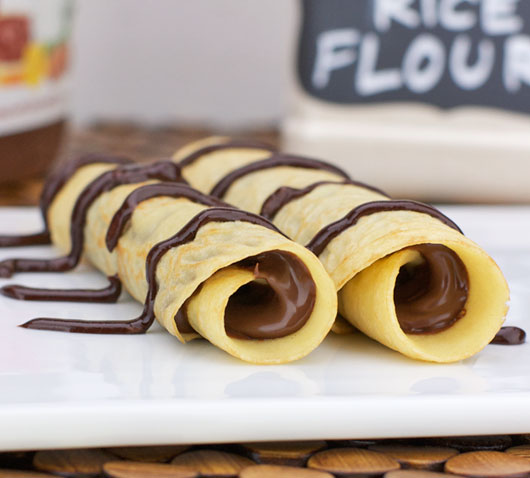 How To Make Gluten-Free Crepes

Mix together 1 cup brown rice flour, egg substitute, oil, and water in a bowl. (Use just enough water so the batter is smooth).

Pour a small amount of batter in a frying pan. Tilt pan so the batter spreads across the bottom of the pan. Cook each side thoroughly.

Crepes should be slightly golden brown when done.

Top with nut butter, fruit, maple syrup or whatever your favorite topping might be.

This recipe makes 10 6-inch crepes.

Topping Suggestions: raspberries, blueberries, strawberries, your favorite nuts or nut butter, maple syrup, jam, etc.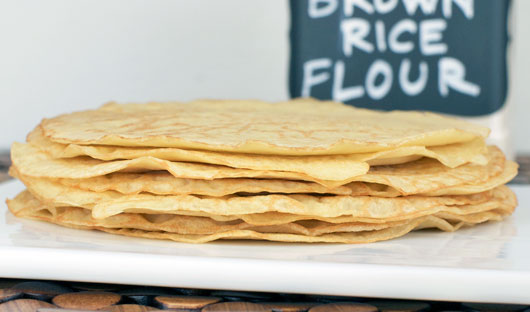 Cooking Note:

To make Nutella drizzle-able, combine 2 Tablespoons Nutella with 2 teaspoons water or milk. Stir. Microwave for 20 seconds. Stir again. It's a quick, warm topping that's also great on waffles and pancakes.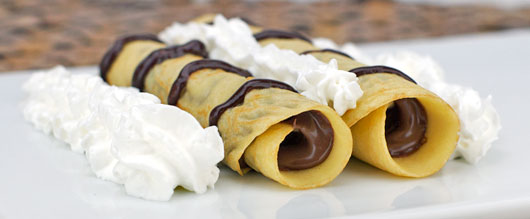 These are great for breakfast or any meal. Takes only 10 minutes to make. No gluten. No problem. They're just as good as crepes made with all-purpose flour.




Mr Breakfast would like to thank nikkimack for this recipe.

Recipe number 857. Submitted 3/28/2003.