Cheesy Noodle Omelette

(6 servings)

8 large eggs
1 teaspoon salt
1/4 teaspoon pepper
2 cups cooked noodles
1 cup shredded Cheddar cheese
2 Tablespoons green pepper - finely chopped
1 Tablespoon pimiento - finely chopped
I was surprised how much I loved this. I like bacon and sausage in my omelettes. But, noodles? Plus, it's a microwave recipe. I used leftover plain noodles from Chinese take-out. Instead of pimento, I used chopped cilantro. It turned out to be fun and filling. Eggs and noodles seem like unlikely breakfast companions, but the result was a weird and surprisingly wonderful open-face omelette (aka frittata). I'll keep this recipe in mind anytime I have leftover noodles. (This recipe was submitted in 2003. It was tested and photographed in February 2015.)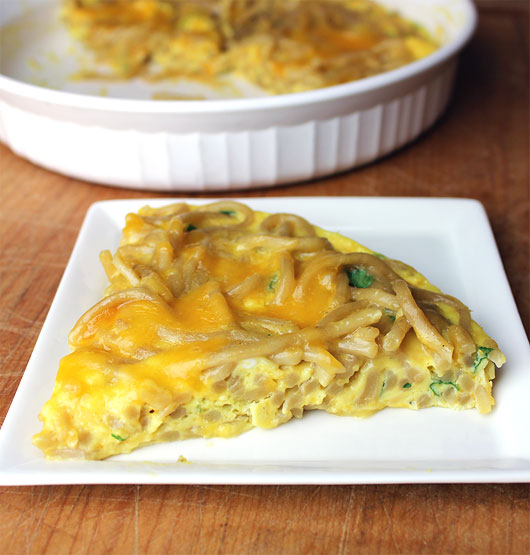 How to Make A Cheesy Noodle Omelette

In a deep, 2-quart, heat-resistant, non-metallic casserole, beat the eggs with salt and pepper. Stir in cooked noodles, Cheddar cheese, green pepper and pimiento.

Heat, mostly-covered, in microwave for 3 minutes stirring after each 1 minute of cooking time. Let stand 2 to 3 minutes at room temperature. Cut into wedges and serve.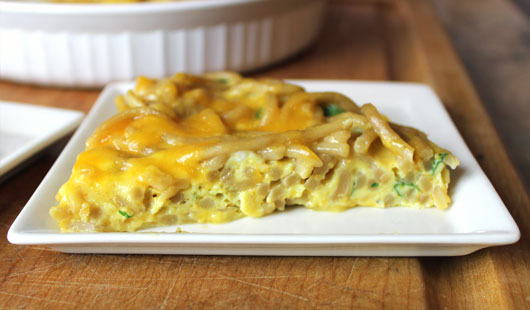 Cooking Note From Mr Breakfast

You'll probably have to microwave longer than instructed for the egg to be fully set in the center. I halved the recipe for my test omelette and it still had to be microwaved 90 seconds longer that the original recipe submission reccomends. I was worried that the egg might be tough after the prolonged microwave time, but as long as everything is stirred twice midway through cooking, the egg is still tender and close to pan-fried or baked eggs.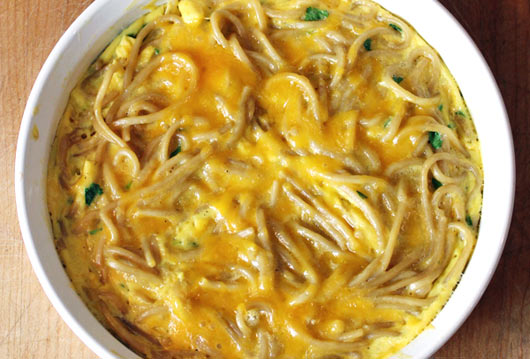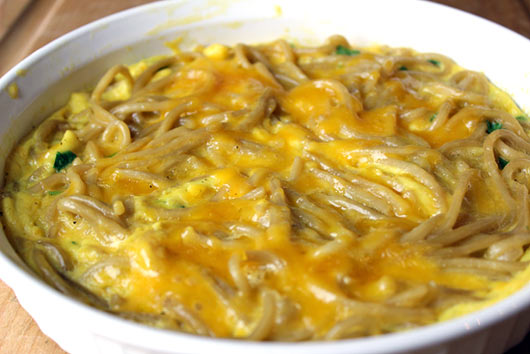 An omelette with noodles prepared in the microwave. Pimento adds a flavorful twist. A truley unique dish.




Mr Breakfast would like to thank dalencaroline for this recipe.

Recipe number 825. Submitted 3/27/2003.