Chocolate Cookie Oatmeal

(1 serving)

1/2 cup instant oatmeal
1 envelope of instant cocoa mix
1 and 1/2 teaspoon peanut butter
1 cup water
dash of salt
1 teaspoon vanilla extract
Combine all ingredients in a medium sauce pan. Cook over medium heat until thick and all ingredients have intermingled (about 3 minutes).

Note from Mr Breakfast:
I finally got around to trying this recipe today (May, 15, 2013) and I liked it quite a bit. Thanks to 'ChocolateLover' for the submission. It's a fun idea using hot cocoa mix to flavor oatmeal. One thing to watch out for... depending on the sweetness of your hot cocoa packet, you might want to add just a little more sugar to this recipe. I used a fancy Salted Caramel Hot Cocoa Mix from Starbucks. It added an interesting flavor, but definitely needed a touch more sugar. No problem. I just stirred a teaspoon in after everything was mixed.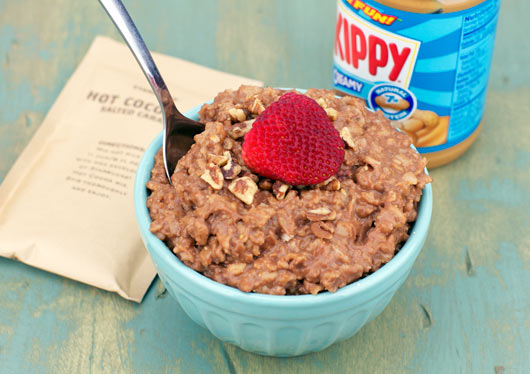 Turn instant oatmeal into something kind of fancy. This really tastes like a bowl of cookies. Choco-tastic! Secret ingredient: hot cocoa mix.




Mr Breakfast would like to thank ChocolateLover for this recipe.

Recipe number 780. Submitted 2/3/2003.