Chocolate Brownie Waffles

(5 servings)

1/4 cup semi-sweet chocolate chips
3 Tablespoons unsweetened cocoa
1/3 cup chopped walnuts
1 and 3/4 cups pancake mix
3 Tablespoons sugar
1 large egg
1/4 cup vegetable oil
1 and 1/3 cups water
I suppose the biggest criteria for testing this waffle would be "does it really taste like a brownie?" The answer is YES! It's chocolaty and delicious. You get extra bursts of chocolate from the chocolate chips and the nuts make it seem more like a brownie waffle as opposed to a regular chocolate waffle. The best waffles from this recipe were the ones that were just slightly overdone. Those felt the most like brownies because of the texture difference between the crisp edges and the softer interior. Bottom Line: If you like brownies and you like waffles, you're gonna like these brownie waffles. (This recipe was submitted in 2003. It was tested and photographed in November 2016.)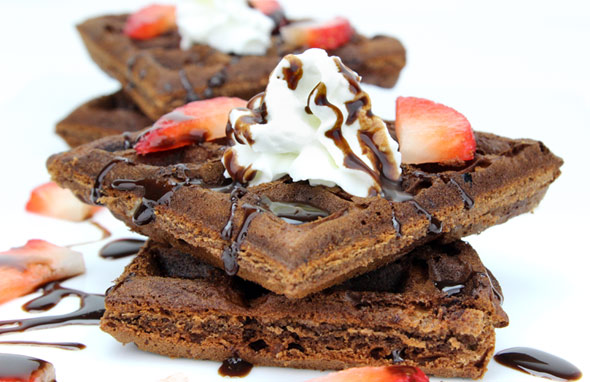 How To Make Chocolate Brownie Waffles

Heat waffle iron to its medium setting.

In a medium-sized mixing bowl, sift together the pancake mix, walnuts, chocolate chips, cocoa and sugar.

In a separate bowl, beat the egg and stir in the oil and water.

Add wet mixture to dry mixture and mix with wire whisk just until large lumps disappear. Let batter rest for at least 5 minutes.

Pour desired amount of batter into well greased waffle iron. Bake until indicator light goes off or until the steam stops.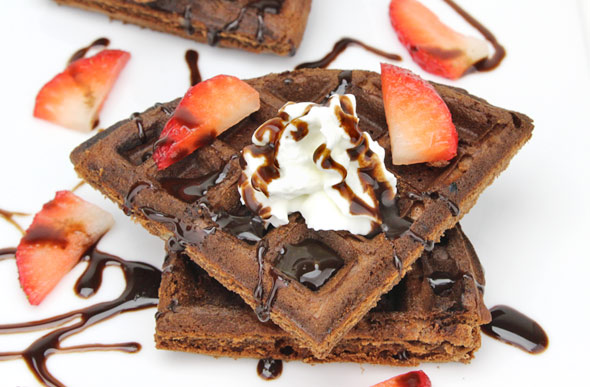 Cooking Notes From Mr Breakfast

For my recipe test I used a round Chef's Choice WafflePro Waffle Maker which uses 1/2 cup of batter for each waffle. I was able to get 5 waffles with just a little bit of batter left over.

Expect this batter to be thicker than you may be used to. It will resemble actual brownie batter.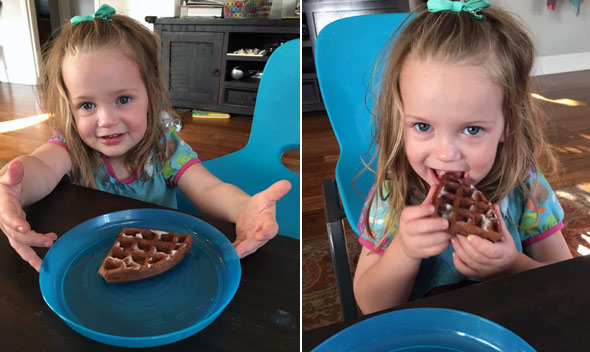 What could be better than this! Top with a little whipped cream and a big strawberry for the perfect extra flare.




Mr Breakfast would like to thank ChocolateLover for this recipe.

Recipe number 779. Submitted 2/3/2003.