Maple Oat Nut Scones

(8 servings)

1 cup quick or Old Fashioned oats
1 and 1/4 cups all-purpose flour
2 Tablespoons white sugar
2 Tablespoons brown sugar
1/2 teaspoon salt
1 Tablespoon baking powder
2 Tablespoons maple syrup
3 Tablespoons cold butter - cut into small pieces
1 large egg
1/2 cup half and half or heavy cream
1 teaspoon maple extract
2/3 cup pecans - chopped


For The Topping:
1 and 1/2 cups powdered sugar
1 teaspoon maple extract
5 teaspoons warm water
The gold standard for this type of scone is usually considered to be the Maple Oat Pecan Scone that they sell at Starbucks coffee shops. I'm a big fan of those scones so I judged the flavor and texture of these homemade scones accordingly. Like the commercial scone, this recipe produces a crumbly, yet still soft cake. The amount of pecans in the homemade version is more than you get at Starbucks. The amount of sweetness and the intensity of the maple flavor is very similar. Judging against the Starbucks version, I give this recipe a score of 4.8 out of 5. In other words, A+. I really liked these scones! (This recipe was submitted in 2003. It was tested and photographed in September 2014.)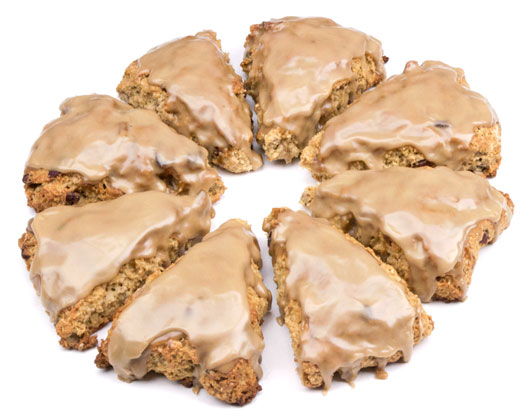 How To Make Maple Oat Nut Scones

Preheat oven to 425 degrees F.

Pulse flour, oats, sugar, salt, and baking powder in food processor to finely grind the oats. Add the butter and pulse to blend.

In a small bowl, beat the egg with the cream, maple syrup and maple extract. Pour the egg mixture into the flour mixture and pulse again.

Place dough on a floured surface. Knead in the pecans lightly. Pat dough into a 1/2-inch to 3/4-inch thick circle and cut into 8 wedges.

Spray a baking sheet with cooking spray. Place wedges on top and bake for 13 to 15 minutes, or until light brown.

Remove scones from oven to wire rack. Let cool about 5 minutes.

Mix maple glaze topping ingredients until smooth. Spread lots of glaze over each scone and dry about 15 minutes before serving.

Makes 8 scones.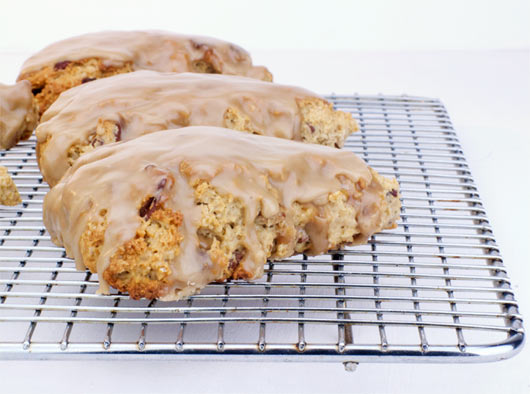 Cooking Notes From Mr Breakfast:

The heavy cream in this recipe can be replaced with milk. To guarantee optimum moistness, consider replacing the cream with plain or vanilla yogurt. If desired, you could also add 1/3 cup of raisins when you fold in the nuts. Walnuts pieces or almond slices could replace the pecans if that's what you have on hand.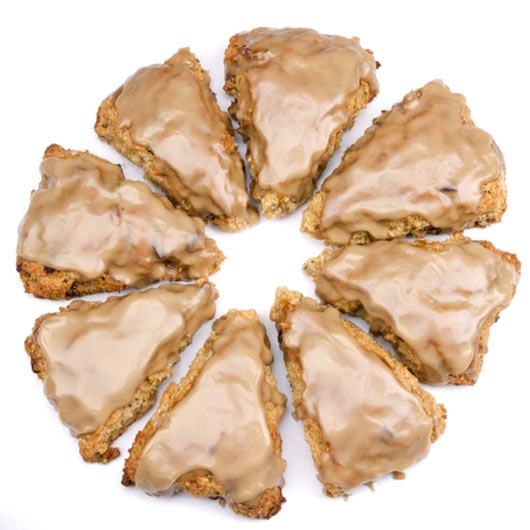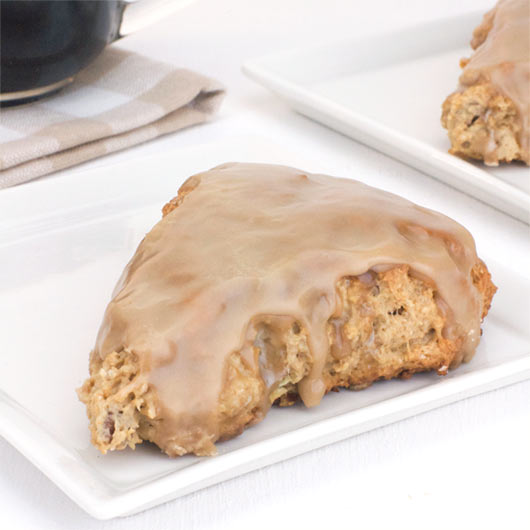 Maple oat scones with pleasing bits of pecans and a sweet maple glaze frosting. Just like the ones at Starbucks!




Mr Breakfast would like to thank muffin for this recipe.

Recipe number 767. Submitted 1/11/2003.