Cran Orange Scones

(8 servings)

2 cups all-purpose flour
2 Tablespoons sugar
2 teaspoons baking powder
1/2 teaspoon salt (omit if using salted butter)
1/4 cup butter
1/2 cup heavy cream
1 large egg
1 cup sweetened dried cranberries
2 teaspoons orange zest
1 or 2 Tablespoons sugar for sprinkling
This recipe was submitted to the site way back in 2003. Since then, it has received perfect scores from everyone who tried it. It took me 10 odd years, but I finally got around to trying it myself this morning. I have to concur with the ratings. These scones are awesome! The orange zest adds a tremendous amount of flavor which complements the cranberries perfectly. Their texture is tender, but they're not completely crumbly like you get from other recipes. The only change I made was to replace 1/2 cup of the all-purpose flour with whole wheat flour. I also topped them with an orange juice glaze. I'll include instructions for that below. All in all, fantastic! (Recipe tested and photographed in October 2013.)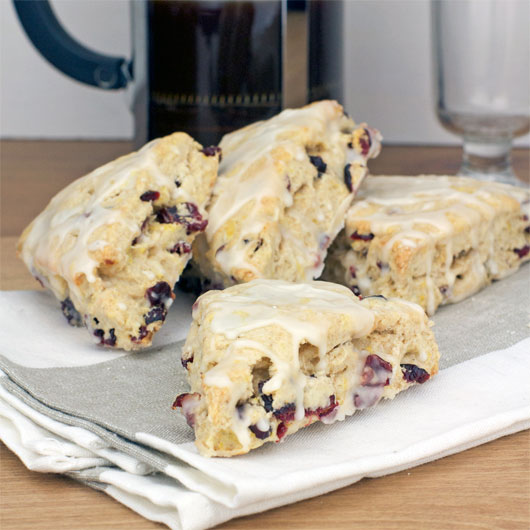 How To Make Cran Orange Scones

Preheat oven to 425 degrees.

Grease cookie sheet.

Combine dry ingredients in mixing bowl. Cut butter into dry ingredients, until butter is the size of small peas, using a pastry blender or just a fork.

Add remaining ingredients, mixing just until dry ingredients are moist.

Turn dough onto a lightly floured surface, gather it into a ball.

Pat into a circle 3/4" thick, then cut into 8 wedges.

Place on cookie sheet and sprinkle with sugar.

Bake about 12 minutes, or until golden brown.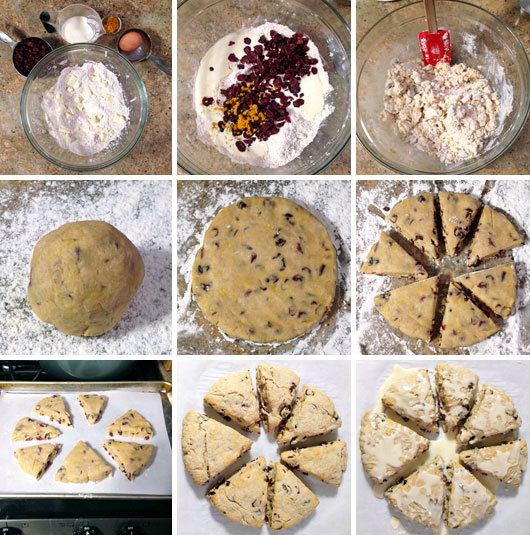 Optional Orange Juice Glaze:

Whisk together 1 cup powdered sugar and 3 Tablespoons orange juice until mixture is well-combined and fluid. Drizzle over cooled scones.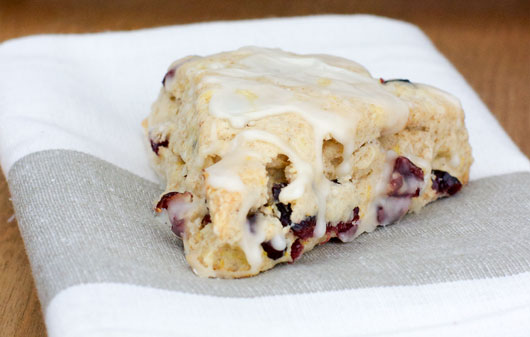 Tangy, sweet and delicious scones with orange zest and cranberries. Absolutely fantastic to have with your morning tea or coffee!




Mr Breakfast would like to thank astrometrics for this recipe.

Recipe number 758. Submitted 1/11/2003.