Chocolate Breakfast Bars

(20 servings)

4 ounces white chocolate
1 and 1/2 cups honey
4 tablespoons butter
1 tablespoon vanilla
1 cup sunflower seeds or your favorite nut
1/2 cup wheat germ or shredded coconut
2/3 cups crunchy peanut butter
1 cup dried fruit (like blueberries or strawberries)
5 cups quick-cooking oats
3 to 4 ounces dark or milk chocolate - optional
I enjoyed these quite a bit, but you do need to add the optional chocolate coating to make them really taste chocolatey. The white chocolate doesn't make a big impact within the bar, but the overall flavors are terrific. The most prominent flavor is probably honey. I decided to use freeze-dried strawberries as my fruit element and I opted to use shredded coconut in place of wheat germ where that option is given. I've been storing these in the refrigerator for two weeks now and they're still just as good as the day I made them. (This recipe was submitted in 2003. It was tested and photographed in June 2015).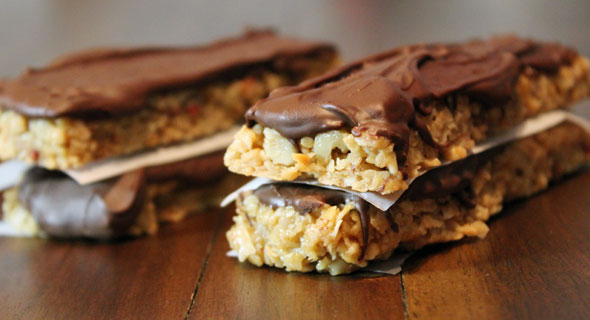 How To Make Chocolate Breakfast Bars

Boil the honey, butter, and chocolate for 1 minute. Remove from heat and add the vanilla.

Mix together the remaining ingredients and stir into the chocolate mixture.

Pour the dough onto a cookie sheet and flatten it into one large rectangle about 1 inch thick. let cool, then cut into bars.

Optional:

Melt the dark or milk chocolate in a small saucepan over low heat. Once melted, spread a thin layer of chocolate over each bar with a spatula. Allow up to 3 hours for the chocolate to set on completed bars.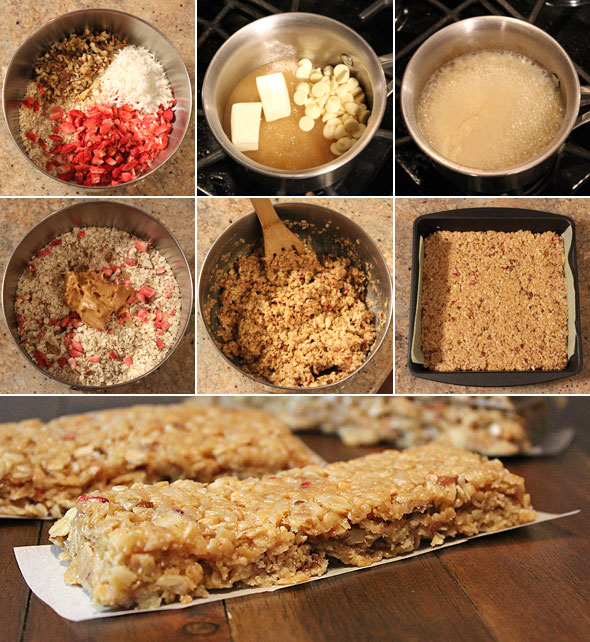 Cooking Note From Mr Breakfast:

Before you add the compiled mixture to the baking pan, it's a good idea to line the bottom of the pan with parchment. Cut the parchment a few inches longer than you need so that you can use the edges as handles to ease the bars out of the pan after they have set.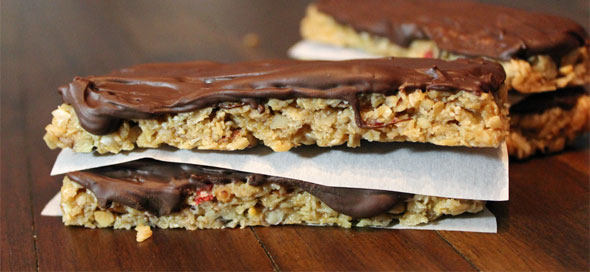 This makes about 20 medium-sized bars or 12 man-sized bars depending on how you cut it. I like mine man-sized.




Mr Breakfast would like to thank football for this recipe.

Recipe number 752. Submitted 1/4/2003.