Walnut Granola

(16 servings)

1 and 1/2 cups quick oats
1 and 1/2 cups Old Fashioned oats
3 Tablespoons all-purpose flour
1 teaspoon cinnamon
1 cup chopped raw walnuts
1/4 cup butter or vegetable oil
1/2 cup packed brown sugar
2 Tablespoons honey
1 teaspoon vanilla
This recipe was submitted way back in 2002 under the name "Excellent Granola". I changed the name to "Walnut Granola" to reflect the most key ingredient, not because it isn't "excellent". It is, in fact, quite excellent. I've modified the ingredients over the years (all reflected above) to add more flavor and to get a really crisp texture. It's sweet, but not too sweet. It's fantastic with milk as cereal. It's also great as a snack eaten dry. If you've got some walnuts and you've got some oats, I suggest you try this one. (This recipe was photographed and most recently tested in February 2016.)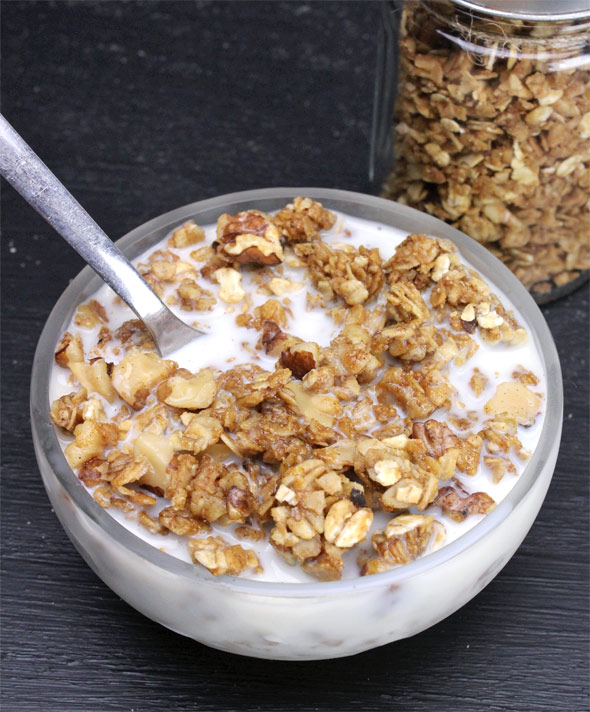 How To Make Walnut Granola

Preheat oven to 250 degrees.

In a large bowl, mix together the oats, flour, cinnamon and walnuts.

In a small sauce pan over medium-low heat, mix together the butter (or vegetable oil), brown sugar and honey. Stir until sugar is dissolved and everything is well combined. Remove from heat and stir in the vanilla.

Add the wet mixture to the oat mixture and stir until all ingredients are moistened.

Spread granola out evenly onto a cookie sheet.

Bake at 250 degrees for 1 hour and 15 minutes - stirring every 20 minutes.

Remove from oven and allow granola to cool in pan. Store in airtight container in a cool place.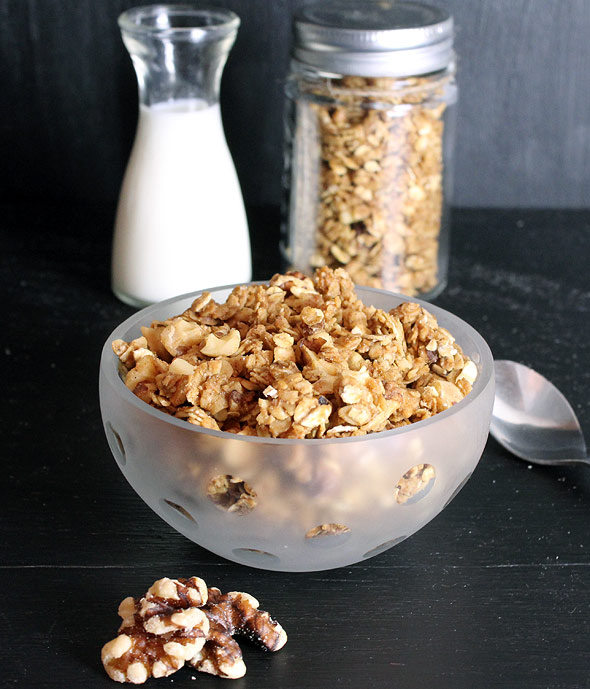 Cooking Note From Mr Breakfast:

My exact cooking process is to let it bake for 30 minutes and then stir it for the first time. I then stir every 20 minutes. The batch you see here took exactly 1 hour and 20 minutes. At that time, I turned off the heat and let the granola cool slowly in the oven. I found that that produces ultimate crispness.

Simple and wholesome granola that's more than a little 'nutty'. Really good served with fresh fruit.




Mr Breakfast would like to thank goodforyou for this recipe.

Recipe number 740. Submitted 12/15/2002.