American Egg Scramble

(1 serving)

2 large eggs
1 Tablespoon chopped tomato
1 Tablespoon chopped onion
1 Tablespoon chopped bell pepper
1 or 2 Tablespoon grated Cheddar cheese
This recipe might be better titled Cheesy Scrambled Eggs With Onions, Tomatoes And Peppers. It was submitted to the site with the name 'American Egg Scramble' way back in 2002 by a user named 'cantinanana'. I'm not quite sure what makes this scramble definitively American. I'd be inclined to use American cheese just to justify the name. I can tell you the dish in the pictures is truly American. I made it today using eggs and vegetables from California and cheese from Wisconsin. I can also report that it was delicious! (Recipe tested and photographed: July 2013)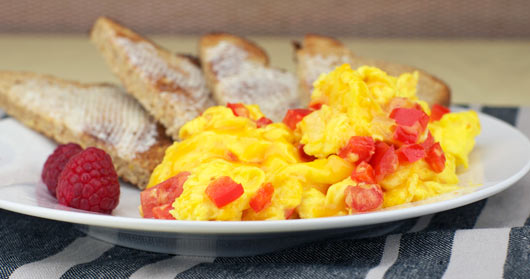 How To Make An American Egg Scramble

Crack eggs into medium bowl and beat well. Using wire whisk, gently stir in the other ingredients. Cook mixture in small skillet over low heat until eggs are as firm as you like. Serve hot.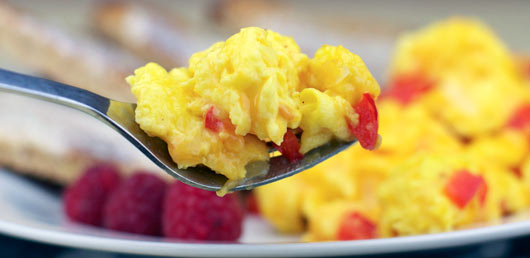 Cooking Note From Mr Breakfast:
This recipe works great, but it's even better if you saute the vegetables first. Drizzle a little olive oil in a small pan over medium heat. Add the vegetables and cook until tender (about 5 minutes) - stirring occasionally. Add that to your cooking eggs as you scramble them and see what you think.

A simple, fresh-tasting scramble with tomatoes, onion, bell pepper and cheese. Works well with most egg substitutes.




Mr Breakfast would like to thank cantinanana for this recipe.

Recipe number 662. Submitted 9/16/2002.