Cheesy Eggs on Toast

(1 serving)

1 slice of bread (any kind)
2 large eggs
2 tablespoons of grated cheese (any kind)
If you're looking for hot breakfast at its most basic, you might want to give this one a try. It's nothing fancy - just eggs and cheese on toast.

It's no-fuss dishes like this that remind us that eggs are pretty great without a lot of added ingredients. It's the same with toast. If you have a quality bread, you're almost doing it a disservice by piling on flavors that hide its taste. This recipe was submitted by "cantinanana" in 2002. I made it and took these pictures in November 2012. Better late than never. At least that's what my very satisfied belly is telling my now.

The only change I made to recipe shown here was to add a teaspoon of milk to the eggs before beating them. I find that it makes the scrambled eggs just a little more fluffy.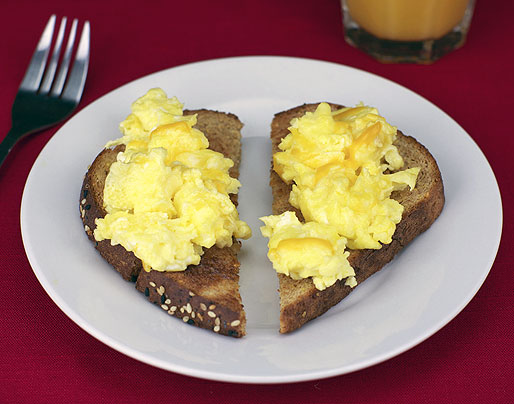 How To Make Cheesy Eggs on Toast


Place small non-stick skillet on stove and heat on medium-low until warm. Crack eggs into a bowl, beat well, and astir in the cheese.

Pour into warm skillet and stir until eggs are soft or firm (depending how you like them). While eggs are cooking, toast bread.

Top the toasted bread with cooked eggs. If desired, season with a little salt and pepper. Serve hot.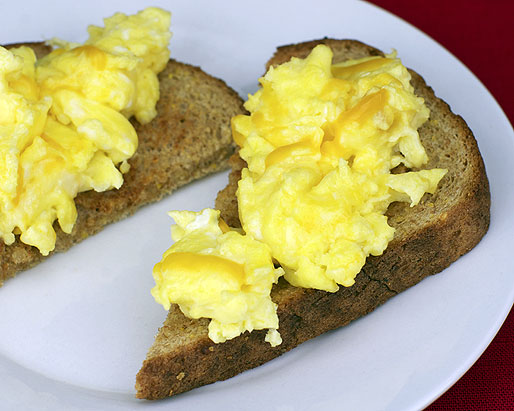 A super simple, yet very satisfying breakfast. Just three ingredients: eggs, cheese and bread.




Mr Breakfast would like to thank cantinanana for this recipe.

Recipe number 661. Submitted 9/16/2002.