Banana Pineapple Bread

(6 servings)

3 cups all-purpose flour
1 teaspoon baking soda
1 teaspoon cinnamon
3/4 teaspoon salt
2 cups sugar
3 large eggs - beaten
1 cup vegetable or canola oil
2 cups mashed bananas
2 Tablespoons vanilla
1 8-ounce can crushed pineapple - drained
1/2 cup raisins
I made this bread as mini-loaves to give out as early holiday treats. I found the bread to be moist and full of flavor. It's quite sweet. If I made it again, I'd consider reducing the sugar to 1 and 3/4 cup. Everyone who tried my mini-loaves gave positive feedback. One person made an interesting comment that it might even be better with chocolate chips instead of raisins. I could see how that would work. The following original recipe submission is for 2 standard-size loaves. Below that, I'll add a few details about making mini-loaves with this one. (This recipe was submitted in 2002. It was tested and photographed in December 2013.)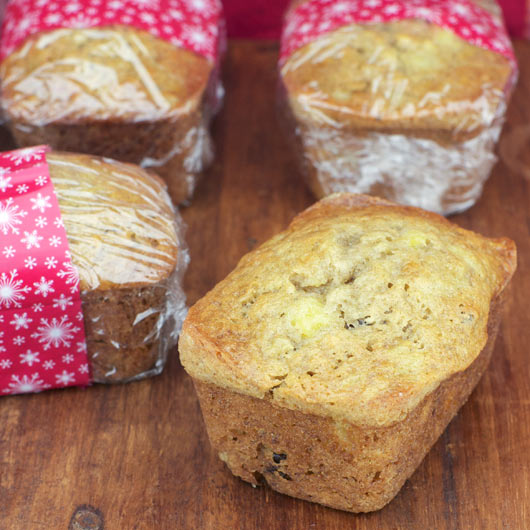 How To Make Banana Pineapple Bread

Combine the first 4 ingredients in a medium bowl; set aside. Mix remaining ingredients in a large bowl.

Add dry ingredients to the wet ingredients and mix well.

Spray 2 loaf pans with nonstick cooking spray. Pour batter into pans.

Bake in a 350 degree F oven for 50 to 60 minutes.



You can tell the bread is done by poking a toothpick in the top of the bread. If it comes out with no batter sticking to it, the bread should be done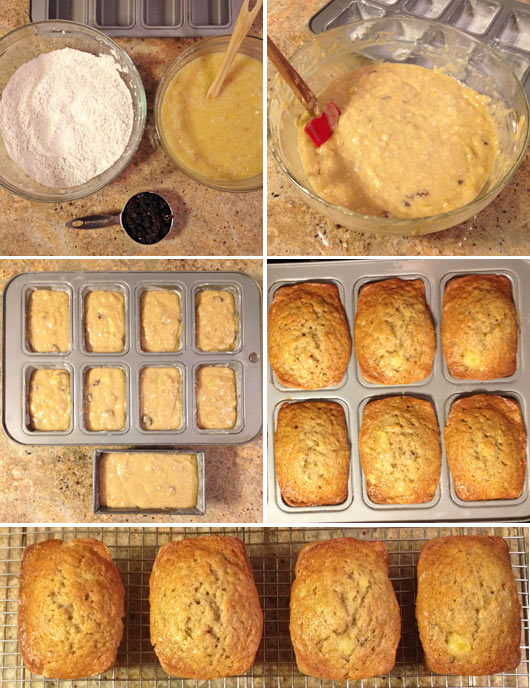 Cooking Notes From Mr Breakfast

I made a couple of adjustments to the recipe as submitted. Instead of a full cup of oil, I used 1/2 cup melted (and cooled) butter and 1/3 cup canola oil. I also added 1/2 teaspoon baking powder (in an effort to get a nice dome on each loaf).

I didn't trust that 2 cups of mashed bananas wasn't meant to be just 2 mashed bananas, so I cut the difference and used 4 bananas to yield 1 and 1/2 cups. I should have just trusted the recipe. 2 cups would have worked fine.

Two Tablespoons of vanilla seemed extreme to me, but I rolled with it and it worked great.

The cooking time for 1 and 1/2 x 4-inch mini-loaves was 35 minutes.

The cooking time for slightly larger 6 x 3-inch mini-loaves took the full 50 minutes. After 40 minutes, I put foil on top of that loaf to prevent over-browning.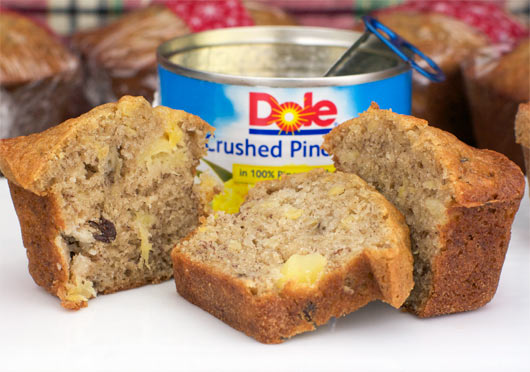 Once you try adding pineapple to traditional banana bread, you may never go back. This one is flavorful and moist.




Mr Breakfast would like to thank janeboo for this recipe.

Recipe number 654. Submitted 9/15/2002.