Bacon Crunch Bars

(25 servings)

1 cup light corn syrup
1 cup sugar
3/4 cup reduced fat peanut butter
4 cups Grape-Nut Cereal
1 package (2.8 oz.) Real Bacon Recipe Pieces
Loved them! These bars use the same basic technique as Rice Krispies treats to make. You heat up a sticky mixture, mix it with some cereal (and bacon), let it cool... and then... Wham! Bamm! Thank you, ma'am! You have crunchy, satisfying snack or breakfast bars loaded with flavor. The active cooking time is barely more than 5 minutes (even less if you microwave the sticky mixture). I found that store-brand generic Grape-Nuts work just as well as the more expensive name brand cereal. I loved making them and I loved eating them. I'm excited to use Grape-Nuts as a secret ingredient in other future granola bars. A+ (This recipe was submitted in 2002. It was tested and photographed in September 2015.)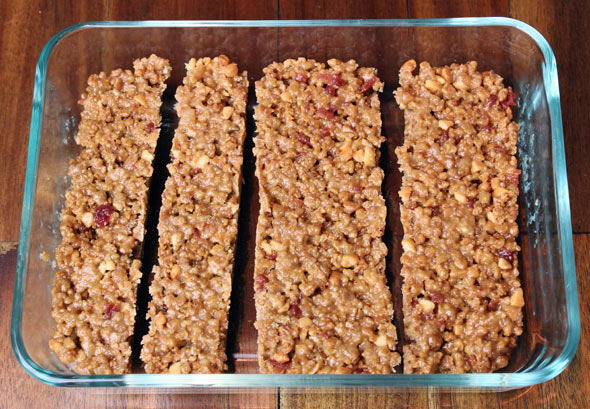 How To Make Bacon Crunch Bars

Mix corn syrup, sugar and peanut butter in large microwavable bowl. Microwave on HIGH 2 minutes or just until mixture boils, stirring every minute.

Mix cereal and bacon. Add to corn syrup mixture; toss to coat well.

Press firmly into foil-lined 13x9-inch pan lightly sprayed with no stick cooking spray. Cool. Remove from pan; remove foil. Cut into bars.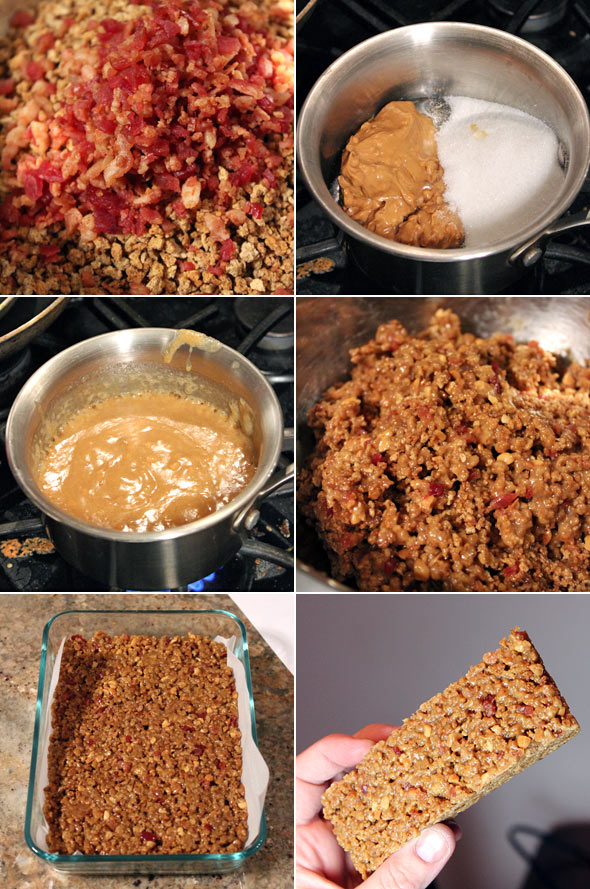 Cooking Note From Mr Breakfast

While I loved the recipe exactly as submitted, another person in the test kitchen found them a tiny bit too sweet. You might consider reducing the sugar by 1/4 cup and replacing 1/4 cup of the corn syrup with honey if you're hyper-sensitive to sweetness.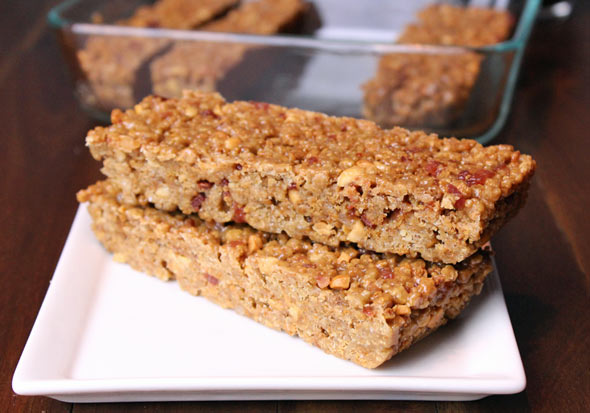 Take some bacon pieces, peanut butter and Grape-Nuts cereal and turn them into unique and delicious breakfast bars. Everything is better with bacon!




Mr Breakfast would like to thank mommagibs for this recipe.

Recipe number 645. Submitted 9/15/2002.