Banana Pancake Muffins

(12 servings)

1/2 cup shortening or softened butter
1 cup brown sugar
1 large egg
2 medium bananas - diced or mashed
3 cups all-purpose flour
1 and 1/2 teaspoons baking powder
1/2 teaspoon baking soda
1 and 1/4 cups soy milk (or regular milk)
1 teaspoon vanilla
These muffins were tasty with a good amount of banana flavor. They weren't too heavy and they were pleasantly moist. I loved that they didn't stick to the muffin papers. It can be aggravating when muffins stick to their papers, but these peeled off like a banana at a wet t-shirt contest. For those wanting to cut back on sugar, I think the sugar would have been fine at 3/4 cup instead of 1 cup as the muffins were quite sweet. I made an optional crumble topping (recipe below) which I loved and would double next time. Like most muffins, I liked these best warm with a nice pat of butter. Overall, I enjoyed these a lot. I served them to a group of toddlers and they went bananas for them. (This recipe was submitted in 2002. It was tested and photographed in June 2017.)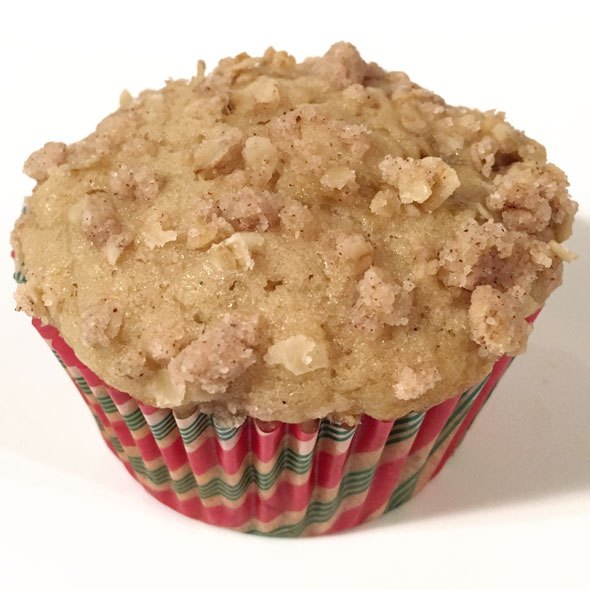 How To Make Banana Pancake Muffins

Preheat oven to 350 degrees F (175 degrees C). Grease 12 muffin cups or line with paper muffin liners.

In a large bowl, cream together shortening (or butter) and sugar. Beat in egg. Blend until banana is completely mixed in, then add flour, baking powder and baking soda. Mix batter with spoon. Stir in milk, then spoon into muffin pan. Spoon batter into prepared muffin cups.

Bake in preheated oven for 20 to 25 minutes, until a toothpick inserted into center of muffin comes out clean.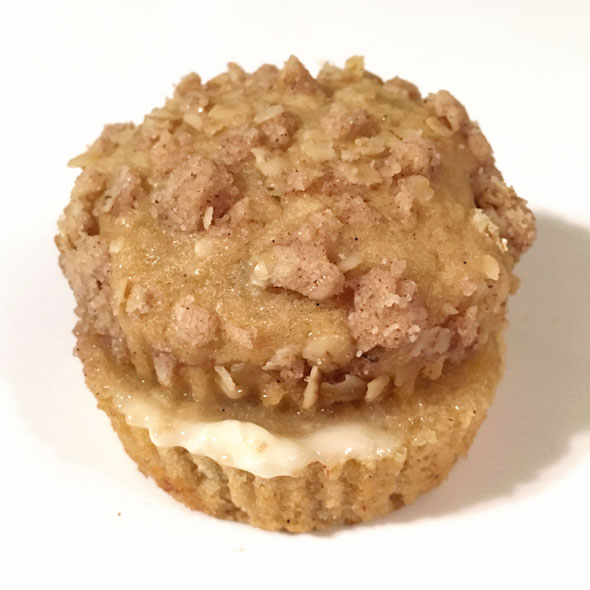 Optional Crumble Topping:

- 1 Tablespoon sugar
- 2 Tablespoons all-purpose flour
- 2 Tablespoons quick-cooking oats
- 1/4 teaspoon cinnamon
- 1 Tablespoon softened butter

Mix together all of the ingredients with a fork or fingers until a crumble forms. Add additional flour a pinch at a time until the mixture can be sprinkled and feels like wet sand. Sprinkle over muffins before baking.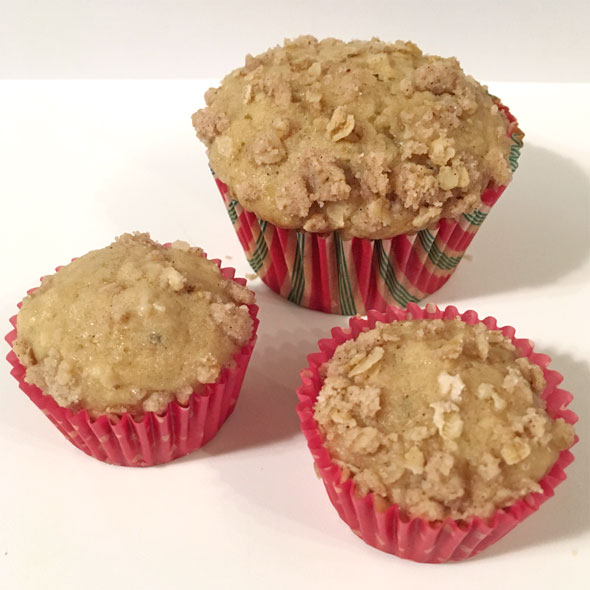 Cooking Note From Mr Breakfast:

For me, the amount of batter made 12 regular muffins and 12 mini muffins. So you can probably expect this would make about 16 regular sized muffins. My exact cooking times were 15 minutes for the mini muffins and 28 minutes for the regular muffins.

Brown sugar and bananas... Is this a muffin or a delicious bite of banana pancakes in my mouth?




Mr Breakfast would like to thank mommagibs for this recipe.

Recipe number 642. Submitted 9/15/2002.