Peppermint Cappuccino

(1 serving)

1 small Peppermint Pattie - unwrapped and quartered
2 teaspoons milk
1 cup hot brewed coffee
In large microwave-safe mug, place peppermint pattie pieces and milk.

Microwave at HIGH 30 seconds or until candy is melted and smooth when stirred. Stir in hot coffee until mug is almost full.

Top with whipped cream, if desired. Serve immediately.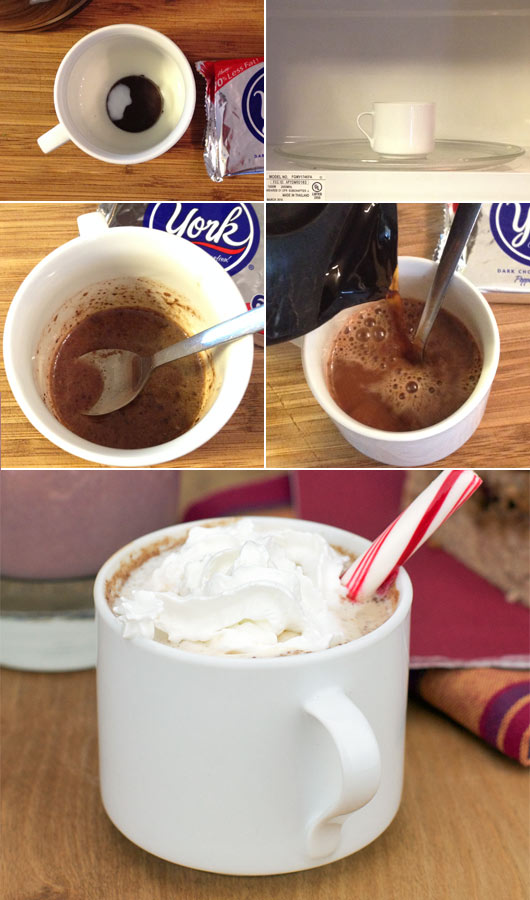 Note From Mr Breakfast:

I'm happy to report that this actually works. It's not as good as a similar drink from Starbucks, etc. But for a fancy drink you can make in 40 seconds, it's great. I didn't read the directions fully and just melted a whole peppermint patty. It still worked fine.

I might suggest that the one thing that would have made this better would have been more milk - preferably steamed milk so you could get a little froth on top.

Recipe submitted in 2002. It was tested and photographed in November 2013.

A Peppermint Pattie candy transforms a cup of coffee into fancy treat in seconds.




Mr Breakfast would like to thank mommagibs for this recipe.

Recipe number 640. Submitted 9/15/2002.