Big Texas Breakfast Sandwich

(1 serving)

2 slices Texas Toast
2 large eggs - scrambled
3 slices bacon (or a sausage patty or a slice of ham)
1 slice American cheese
I'll go back on my diet tomorrow. I promise. But for today, I really wanted a big breakfast sandwich with lots of bacon. so I "scrambled" through the website and found this recipe that was submitted by "childbrite" way back in 2002. It had some good reviews, so I decided to give it a try.

Instead of Texas toast, I decided to use a beautiful cheese roll from a local bakery. I cut the roll in half, buttered each side and pan fried it until golden brown. Other than the bread switcheroo, the pics here represent the recipe as submitted. I've gotta say I liked it! Yee Ha!

- Mr Breakfast (December 2012)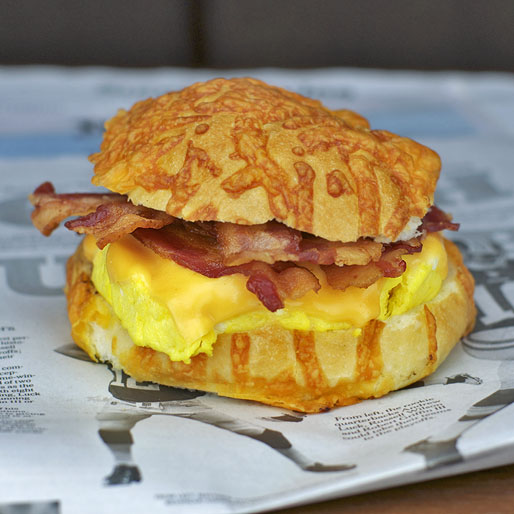 How To Make A Big Texas Breakfast Sandwich

Fry up your bacon, sausage or ham and set aside.

While your meat is sitting, toast your bread and scramble your eggs. Once the eggs are scrambled, place them on your toast. You may butter your toast if you like.

Place the cheese on top of the eggs and your meat on top of your cheese.

Microwave approximately 20 seconds to melt everything together and enjoy.


A big breakfast sandwich for a big appetite. This sandwich is made with bacon, but you could easily substitute sausage or ham.




Mr Breakfast would like to thank childbrite for this recipe.

Recipe number 604. Submitted 9/14/2002.