Berry Best Muffins

(12 servings)

1/2 cup butter or margarine - melted
3/4 cup + 1 Tablespoon milk
1 teaspoon vanilla
1 large egg
2 cups all-purpose flour
1/2 cup sugar
2 teaspoons baking powder
1/2 teaspoon salt (omit if using salted butter)
1/4 teaspoon ground cinnamon
1/2 cup blueberries
1/2 cup raspberries


For The Topping:
1/4 cup all-purpose flour
2 tablespoons brown sugar - packed
2 tablespoons butter or margarine - softened
1/4 teaspoon ground cinnamon
These muffins came out fluffy, light and full of berry flavor. They were sweet, but not overly so. The streusel topping added the slightest gentle crutch. I used frozen berries. I added them to the batter while still partially frozen so they wouldn't discolor the batter too much. (They still did a little.) The only change I made was to add about 1/4 teaspoon orange zest to the batter. A little citrus brings out the flavor of almost all berries, particularly raspberries and blueberries. I completely endorse these muffins. (Recipe submitted in 2002. It was tested and photographed in October 2013.)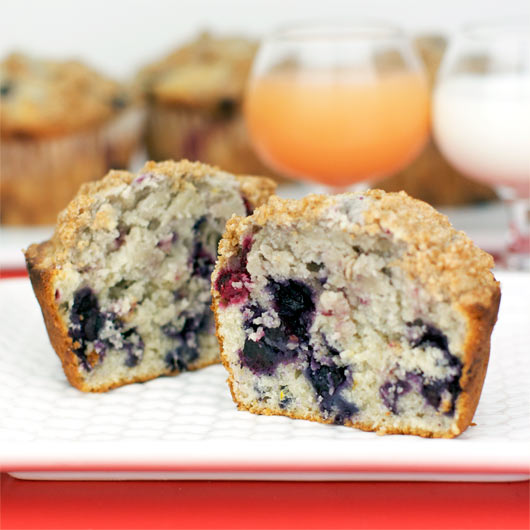 How To Make The Berry Best Muffins

Heat oven to 400 degrees. Grease bottom only of 12 medium muffin cups, 2 1/2 x 1 1/4 inches, 24 miniature cups, 1 3/4 x 1 inch, or 4 jumbo cups, 3 1/2 x 1 3/4 inches, or line with paper baking cups. Make Streusel Topping: set aside.

Beat butter, milk, vanilla and egg in large bowl with spoon. Stir in flour, sugar, baking powder, salt and cinnamon just until flour is
moistened. Fold in berries. Divide batter evenly among muffin cups. Sprinkle with topping.

Bake medium muffins 25 to 30 minutes, miniature 10 to 17 minutes or jumbo 30 to 35 minutes or until golden brown. Cool 5 minutes; remove from pan to wire rack. Serve warm.

Streusel Topping: Mix all ingredients with fork until crumbly.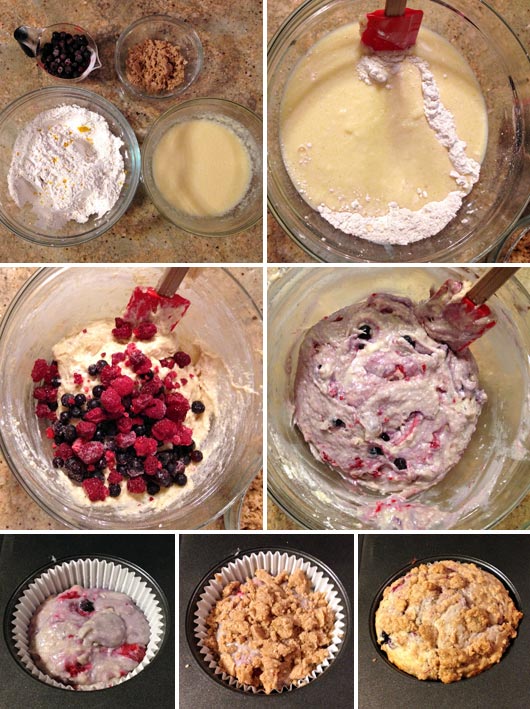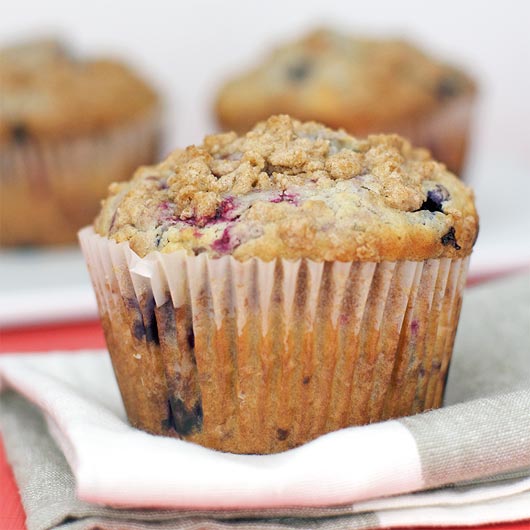 This recipe makes 12 medium, 24 mini or 4 jumbo muffins. It's loaded with blueberries and raspberries and topped with a delicious Streusel topping. If using frozen berries, thaw and drain off excess liquid before adding.




Mr Breakfast would like to thank MrsBuckeye for this recipe.

Recipe number 586. Submitted 9/14/2002.