Chocolate Coconut Banana Bread Muffins

(12 servings)

3/4 cup white sugar
2 large eggs
1/2 cup vegetable oil
2 or 3 very ripe mashed bananas
1 teaspoon vanilla
2 cups all-purpose flour
2 teaspoons baking powder
3/4 teaspoon cinnamon
1/2 teaspoon salt
1/4 shredded coconut (optional)
3/4 cup chocolate chips (optional)
1/4 cup chopped walnuts or pecans (optional)
This recipe was originally submitted under the name "Sher's Banana Bread Muffins". After testing it, I changed the name to better reflect the ingredients. I used the optional coconut and the optional chocolate chips. The muffins turned out fantastic, so I'd strongly recommend including those ingredients. I liked that the recipe relies on mashed bananas as the main liquid ingredient. That made for muffins with a tender, yet sturdy texture. Right before baking, I sprinkled large grain sugar over each muffin so I'd get a bit of sugar crust and and nice bakery-like appearance. (This recipe was submitted in 2002. It was tested and photographed in June 2015.)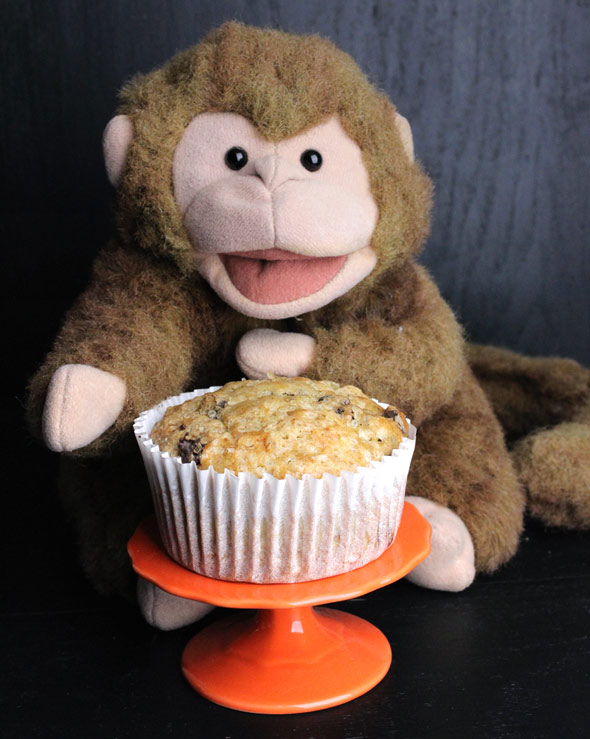 How To Make Chocolate Coconut Banana Bread Muffins

Preheat oven to 350 degrees F (175 degrees C). Place muffin cups in muffin tin, or grease with a little butter.

Mix sugar, oil, vanilla and egg until creamy and light yellow. Add bananas and optional coconut and/or nuts. Add flour, baking powder, cinnamon and salt. Stir until completely smooth. Fold in chocolate chips if using. Spoon the batter into the muffin tin.

Bake for 30 to 40 minutes, until toothpick poked in center muffin comes out clean.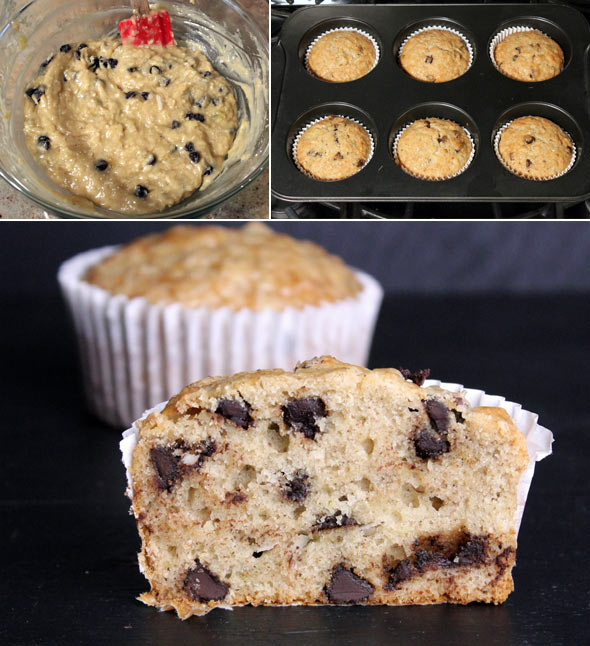 Cooking Notes From Mr Breakfast:

Since "2 or 3 bananas" is an imprecise measurement, I recommend testing the batter consistency before you fill the muffin cups. Dollop a scoop of batter into a bowl. It should roughly hold it shape, but easily jiggle down into a flat layer when the bowl is shaken. Add a few Tablespoons of milk to the batter if it's too thick or a couple Tablespoons of flour if it's too thin. I got lucky and 2 fairly large bananas didn't require milk or extra flour.

For our muffin test, we made jumbo-sized muffins. They took 42 minutes to bake.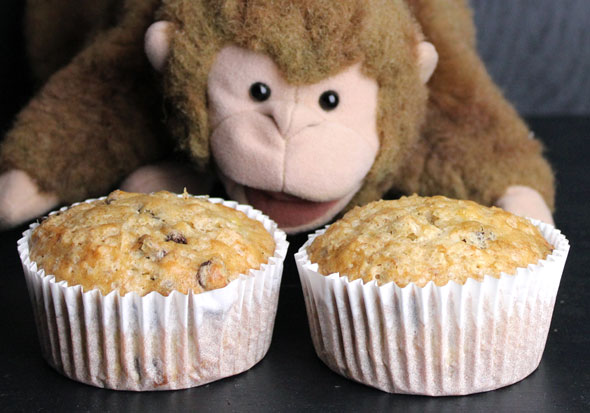 For the best flavor, use the optional shredded coconut, chopped walnuts and chocolate chips. Pecans work well too.




Mr Breakfast would like to thank MrsBuckeye for this recipe.

Recipe number 581. Submitted 9/14/2002.