Cranberry Pumpkin Waffles

(4 servings)

2 cups unbleached all-purpose flour
2 Tablespoons sugar
4 teaspoons baking powder
1 teaspoon salt
1 teaspoon ground cinnamon
1 teaspoon ground ginger
1-1/2 cups milk
4 Tablespoons (1/2 stick) unsalted butter
1/4 cup solid vegetable shortening
2 large eggs
1 cup canned pureed pumpkin
1/2 cup dried cranberries - plumped in hot water to cover for 10 minutes and drained
melted butter - for buttering the waffle iron
These waffles were pretty much perfect. They had the pumpkin flavor I was hoping for. The cranberries were nicely softened and added a sweet tanginess to each bite. The texture of the waffles was close to ideal... lightly crisp on the outside and decidedly fluffy on the inside. I found that I didnít need to grease my waffle iron if I added just 1 more Tablespoon of oil or melted butter to the batter. The only change I'd make in the future might be to increase the amount of cinnamon to 1 and 1/2 teaspoons and to throw 1/4 teaspoon of nutmeg into the mix. Overall: This recipe is excellent. I will make it again for sure. (This recipe was submitted in 2002. It was tested and photographed in October 2014.)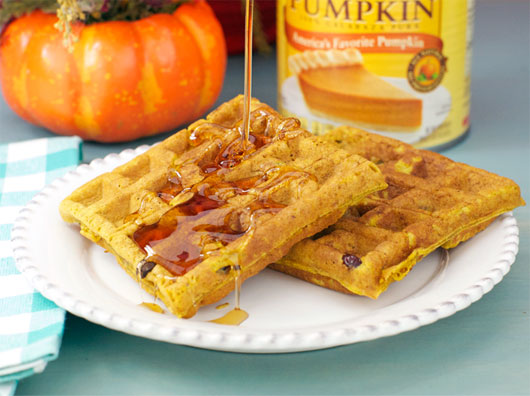 How To Make Cranberry Pumpkin Waffles

Place the flour, sugar, baking powder, salt, and spices in a large mixing bowl and stir with a fork until blended.

Place the milk, butter, and shortening in a small saucepan and heat over low heat until the butter and shortening have melted. Cool slightly.

In a separate bowl, beat the eggs with the pumpkin puree. Stir in the cooled milk and shortening. Add to the dry ingredients and stir with a wooden spoon until well combined. Stir in the cranberries.

Preheat the waffle iron; this should take about 10 minutes.

Butter the preheated waffle iron and add about 1/2 cup batter. (It takes from 1/2 to 2/3 cup batter to make 1 waffle, depending on the size of your waffle iron.) Bake the waffles until they are golden and crisp. Serve hot.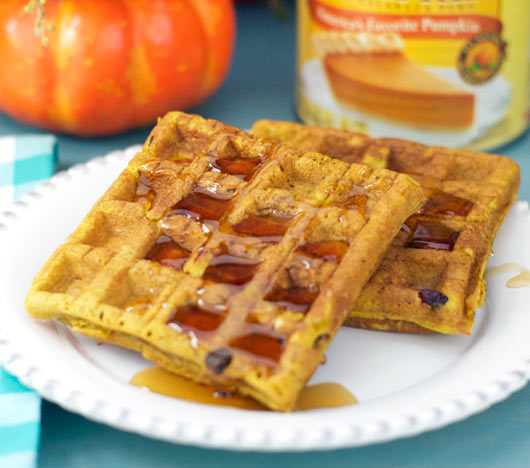 Cooking Tips From Mr Breakfast:

If desired, you could replace the ginger in this recipe with 1/2 teaspoon of freshly grated nutmeg.

I stirred 1 Tablespoon of canola oil into the batter at the very end so I wouldn't have to brush oil or use cooking spray on my waffle iron. It worked great. The waffles didn't stick at all.

This recipe made twelve 4 and 1/2 inch square waffles. I used just over 1 and 1/2 cups of batter for each batch of 4 waffles.

Two of the great tastes of Autumn come together in these family-favorite waffles. Great for the holiday season.




Mr Breakfast would like to thank MrsBuckeye for this recipe.

Recipe number 574. Submitted 9/14/2002.