Breakfast Ham Casserole

(6 servings)

12 slices white bread - buttered
3 cups ham - diced
1/2 pound processed pasteurized cheese such as Velveeta - diced
1 package (14 ounces) Baby Broccoli Florets
6 large eggs - well beaten
1 quart milk
1 teaspoon salt
1/2 teaspoon pepper
1 teaspoon dry mustard
This recipe received a couple favorable reviews, but it wasn't my favorite. I liked the flavor of the broccoli and ham together, but the egg-soaked bread as the bottom layer didn't do it for me. It had a French toast-like consistency that felt at odds with everything else in the casserole. The ham in the recipe provided plenty of salt, so I'd skip adding additional salt if I ever make this again - which I probably won't. I believe this recipe would have been much better if the bread was skipped completely (maybe add 2 more eggs to compensate). For a better ham casserole experience, I'd recommend trying a recipe called Wake-Up Casserole. (The recipe on this page was submitted in 2002. It was tested and photographed in May 2015.)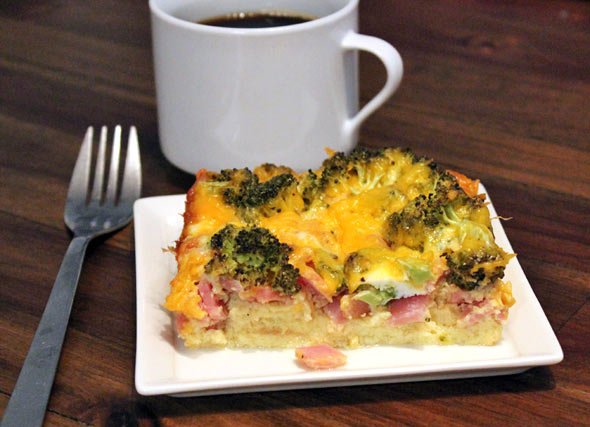 How To Make A Breakfast Ham Casserole

Cut bread into cubes and place into well oiled 9x13-inch casserole dish.

Add ham, cheese, and broccoli.

In medium mixing bowl, beat eggs and milk.

Add salt, pepper and mustard; mix well. Pour over bread.

Refrigerate overnight or allow bread to soak into egg mixture.

Bake, uncovered for 1 hour in 350 degree oven.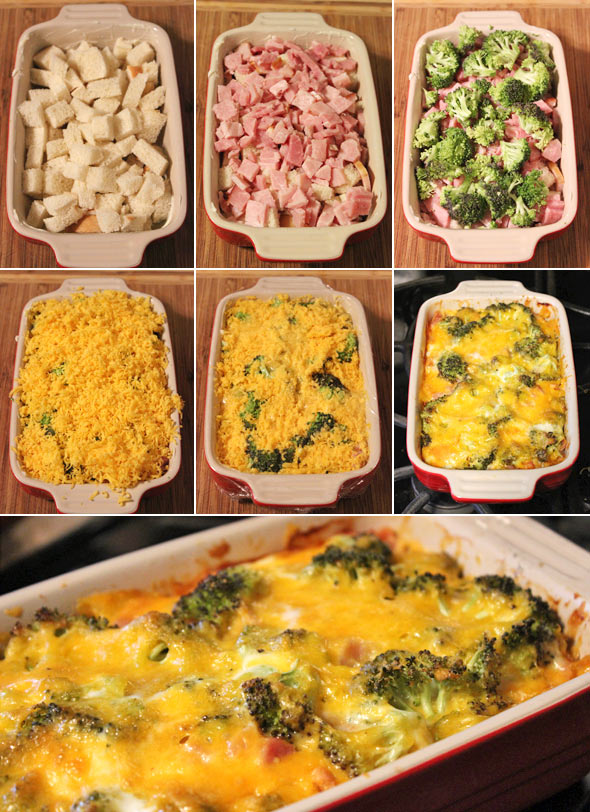 You can make this recipe the night before and have a trouble-free morning. Great for when you have guests over or when you're rushing around and don't have time to cook during the day, ie. the holidays. Am I right ladies?




Mr Breakfast would like to thank eaat4@aol for this recipe.

Recipe number 544. Submitted 9/14/2002.