Ham & Cheese Breakfast Quesadillas

(8 servings)

8 flour tortillas
2 Tablespoons oil
3 cups Cheddar cheese - shredded
16 ham slices - thinly sliced
1 cup green onions - thinly sliced
1 cup sour cream
1 cup salsa
sliced jalapeno peppers - optional
2 scrambled eggs per quesadilla - optional
I liked this recipe a lot, but found it slightly confusing if I just wanted to make one or two quesadillas. So, I've added a section at the end for single quesadilla instructions. I opted to use cubed ham instead of deli slices. I also added two scrambled eggs to each quesadilla. Other than that, I prepared the quesadillas as instructed. I found that they reminded me of fast food breakfast quesadillas from Del Taco - only much more fresh and full. From start to finish (including scrambling some eggs), this dish took me about 15 minutes to make. (This recipe was submitted in 2002. It was tested and photographed in March 2014.)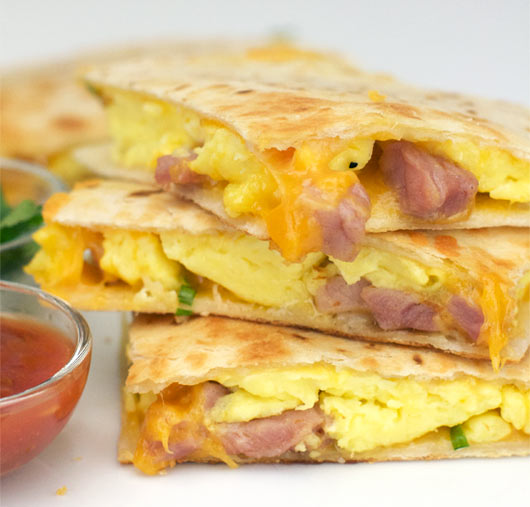 How To Make Ham & Cheese Breakfast Quesadillas

Heat a large frying pan. Brush tortilla with oil on one side. Place tortilla, oiled side down, in the pan. Add 1/2 cup cheese, 2 slices of ham and some green onions.

Cover with another tortilla, oiled side up. Cook on medium heat until tortilla is crisp on the bottom, turn over and cook until cheese is melted. Repeat as needed. Cut into wedges and serve with sour cream and salsa.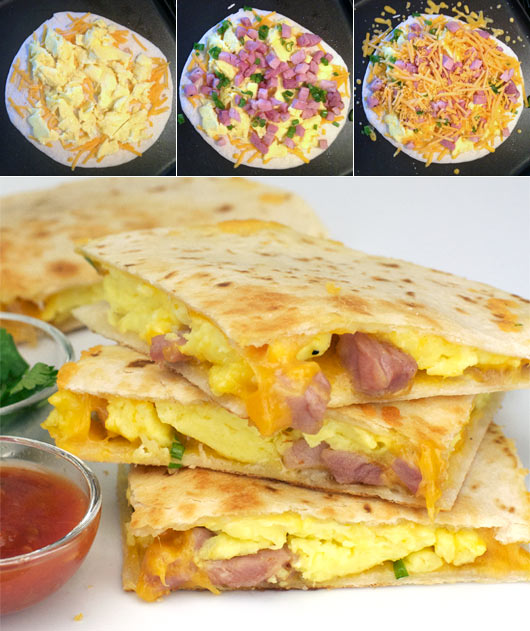 For Individual Ham & Cheese Breakfast Quesadillas

- 2 flour tortillas
- cooking spray
- 1/3 cup shredded Cheddar cheese
- 1/2 cup cubed ham or 3 slices of deli ham
- 1 heaping Tablespoon chopped green onion
- 2 large eggs - scrambled (optional)
- salsa and sour cream for topping (optional)

Place a griddle or large frying pan over medium heat.

Spray one side of a flour tortilla lightly with cooking spray and place it oil-side-down on the griddle.

Spread even amounts of scrambled eggs (if using), cheese, ham and green onions on the tortilla.

Cover with the other tortilla and spray the top with cooking spray.

When the bottom is golden brown (about 5 minutes), carefully flip the quesadilla and fry until the other side is golden brown (about 4 minutes).

Slice into wedges and serve.

Note: I like to sprinkle some cheese on the tortilla first and then sprinkle the rest on before covering with the second tortilla. That way, the melted cheese acts as a sort of glue holding the quesadilla together - making it easier to flip.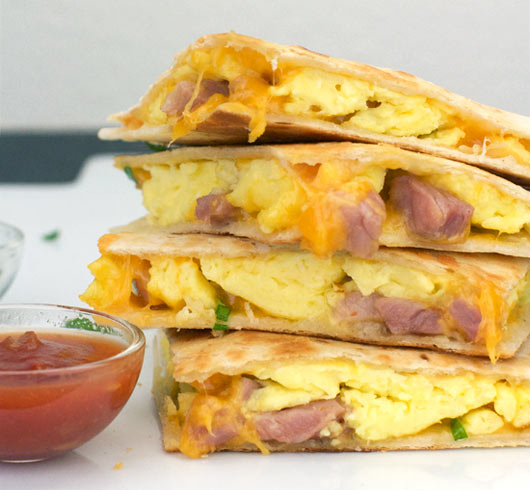 These are ham and cheese quesadillas. You may want to scramble some eggs and spoon them over the ham and cheese for more traditional breakfast quesadillas.




Mr Breakfast would like to thank MrsBuckeye for this recipe.

Recipe number 536. Submitted 9/14/2002.