Buckwheat Pancakes

(6 servings)

1 and 2/3 cups all-purpose flour
1/2 cup buckwheat flour
1 teaspoon salt
1 teaspoon baking soda
2 teaspoons baking powder
2 cups buttermilk
2 large eggs - lightly beaten
1/4 cup honey
1 Tablespoon butter - melted
vegetable oil to coat griddle
1/2 cup toasted sunflower seeds - optional
I loved the flavor of these pancakes although I wished they were a little thicker and fluffier. Next time around, I'd increase the flour by 1/4 cup to get a better batter consistency. I tried a couple with the optional toasted sunflower seeds. I liked them, but for more traditional pancakes and syrup, I'd skip the sunflower seeds or replace them with chopped pecans or maybe blueberries. With all that said, everyone who tried these pancakes liked them and requested more. I was able to get about 24 pancakes from the amount of batter. (This recipe was submitted in 2002. It was tested and photographed in September 2015.)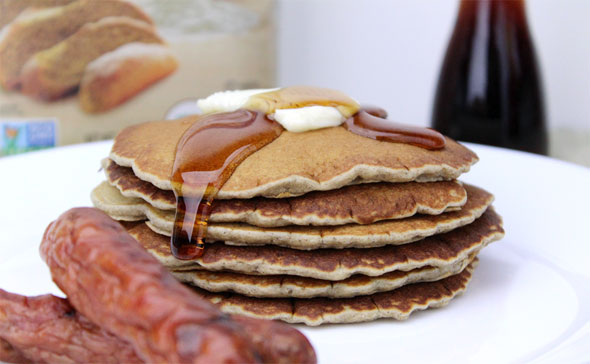 How To Make Buckwheat Pancakes

In a large mixing bowl, sift together flours, salt, baking soda and baking powder.

In another bowl, whisk together buttermilk, eggs, honey and butter.

Combine wet ingredients with dry and stir with wooden spoon to combine. Batter will be slightly lumpy. For best results, let batter rest 10 or 15 minutes before making the pancakes.

Brush hot griddle with oil, then pour 1/4 cup batter (more for larger pancakes), onto griddle, leaving 1 inch between pancakes.

If desired, immediately sprinkle each pancake with 1 tablespoon sunflower seeds.

Cook one side of the pancake until bubbles begin to break on surface and underside is brown. Flip pancakes and brown other side.

Serve with whipped butter and warm maple syrup.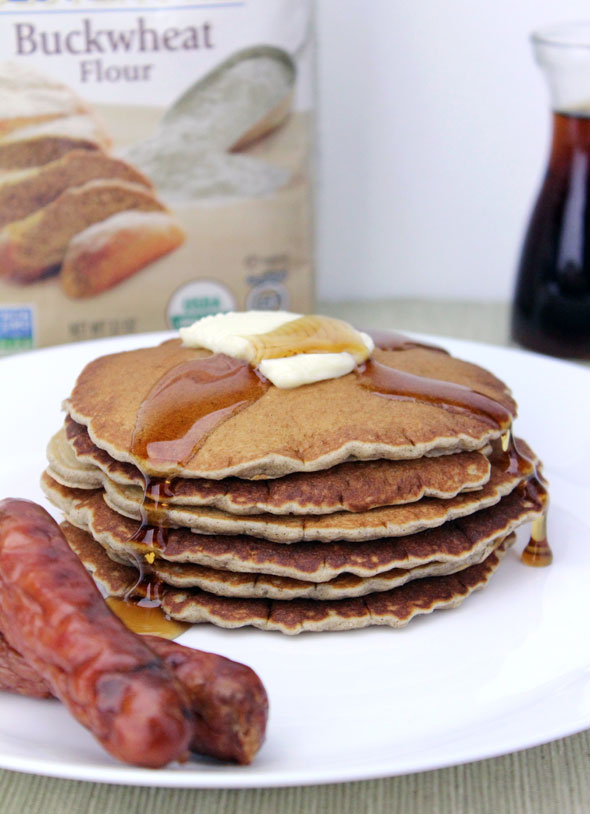 These are honey-sweetened buttermilk buckwheat pancakes with a secret ingredient of toasted sunflower seeds.




Mr Breakfast would like to thank lexani97 for this recipe.

Recipe number 528. Submitted 9/13/2002.