Hash Brown Breakfast Casserole w/ Bacon

(7 servings)

1/2 pound bacon - sliced
1/2 cup onion - chopped
1/2 cup green pepper - chopped
12 large eggs
1 cup milk
1 16-ounce package frozen hash brown potatoes - thawed
1 cup (about 4 ounces) Cheddar cheese - shredded
1 teaspoon salt
1/2 teaspoon pepper
I made this for a recent family brunch and it got rave reviews. I prepped everything the night before, refrigerated it and just popped it in the oven an hour before brunch. The casserole had lots of flavor and the hash browns gave it a hearty consistency that left everyone satisfied without additional side dishes or toast. I adjusted the recipe to suit an 11 x 8-inch baking dish buy reducing the eggs to 10 and milk to 1/2 cup. If desired, you can use a different kind of cheese. I used half Cheddar and half Pepper Jack. I wouldn't hesitate to make this again, especially if I needed to do most of my cooking in advance. (This recipe was submitted in 2002. It was tested and photographed in May 2015.)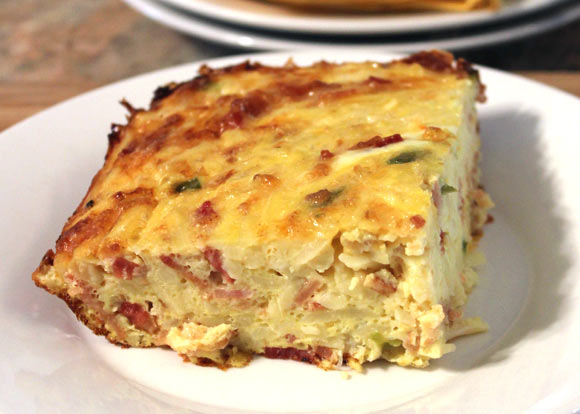 How To Make A Hash Brown Breakfast Casserole With Bacon

In a skillet, cook bacon until crisp. Remove with a slotted spoon; crumble and set aside. In the drippings, saute onion and green pepper until tender, remove with a slotted spoon.

Beat eggs and milk in a large bowl. Stir in hash browns, cheese, salt, pepper, onion, green pepper and bacon. Transfer to a greased 9x13x2 baking dish.

Bake uncovered at 350 degrees for 50-55 minutes or until a knife inserted near center comes out clean.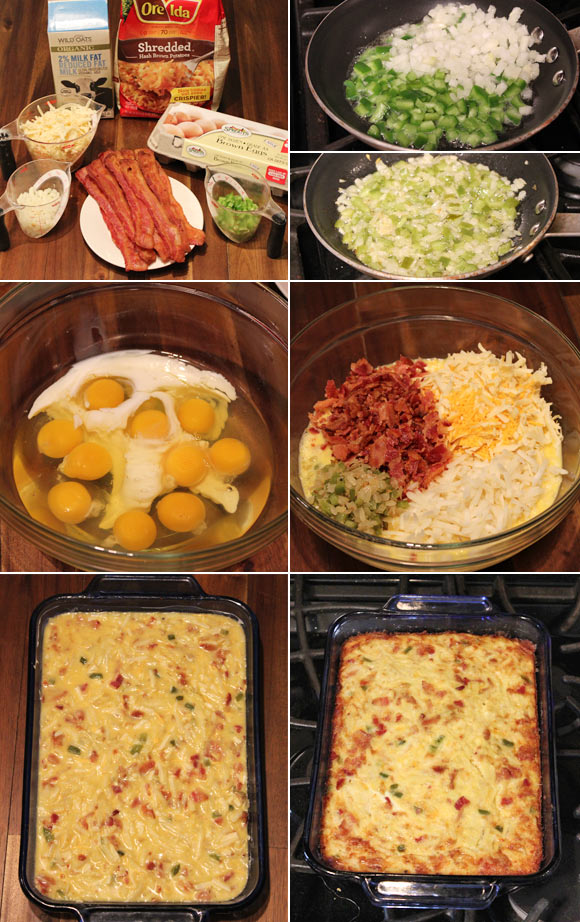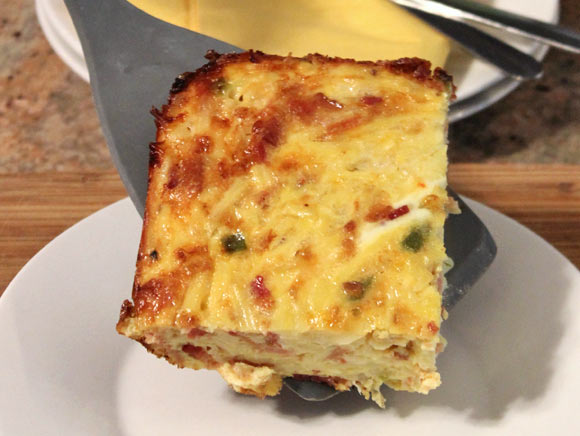 This breakfast casserole features hash brown potatoes, bacon, Cheddar cheese and onions and peppers. Wonderful for a big family brunch.




Mr Breakfast would like to thank lexani97 for this recipe.

Recipe number 527. Submitted 9/13/2002.