Zucchini Bread

(6 servings)

2 small zucchini - unpeeled and grated
3 cups all-purpose flour
1 teaspoon salt
1 teaspoon baking soda
3/4 teaspoon baking powder
1 tablespoon cinnamon
3 large eggs
1 cup canola or vegetable oil
2 cups sugar
2 teaspoons vanilla
3/4 cup chopped walnuts - optional
This is a very reliable recipe. I've made it 3 times and it turns out terrific every time. The size of the zucchini I use is always a little different, but the quality of the bread is consistent. What does seem to change a bit is the cooking time. If I use large zucchini, the cooking time is over an hour. Therefore, it's important that you use a toothpick to test for doneness starting at about 50 minutes. I also recommend covering the bread loosely with foil at 40 minutes so the top doesn't get overly brown. (This recipe was submitted in 2002. It was tested and photographed in July 2015.)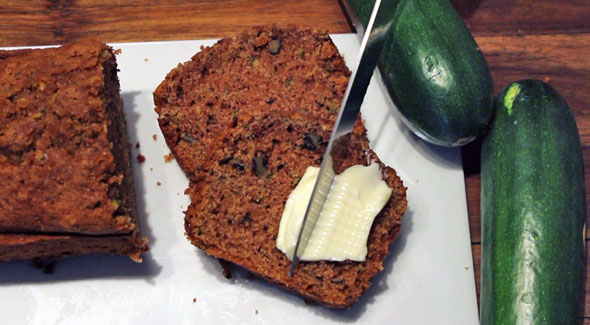 How To Make Zucchini Bread

Preheat the oven to 350 degrees F. Grease and dust with flour two 9 x 5 x 3-inch loaf pans.

In a large mixing bowl, mix together the flour, salt, baking soda, baking powder and cinnamon.

In a separate mixing bowl, beat the eggs. Add the oil, sugar and vanilla and mix well. Add the grated zucchini and mix well.

Add the wet ingredients to the dry ingredients and mix just until there are no remaining bits of dry flour. Fold in the chopped nuts if using.

Pour the batter into the prepared pans, and bake 50 to 60 minutes until a toothpick inserted into the center of a loaf comes out clean.

Cool the loaves in their pans on a wire rack for 30 minutes then turn the loaves out onto the wire rack to cool completely. Wrap the loaves in aluminum foil and refrigerate for several hours for easier slicing, and the loaves may also be frozen.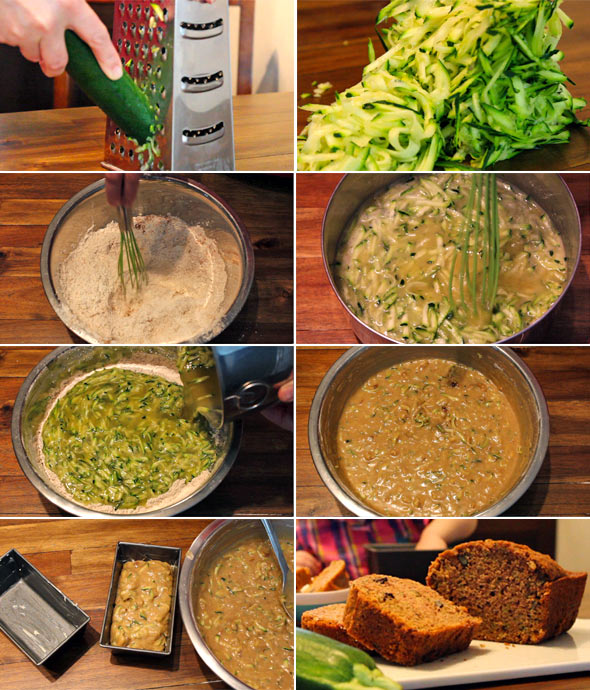 Cooking Notes:

When the zucchini is grated, it should yield about 2 and 1/4 cups. It's okay to use as much as as 3 cups.

To make this recipe healthier: You can replace up to half of the vegetable oil with applesauce. You can replace up to 1 cup of the all-purpose flour with whole wheat flour.

Interestingly, the plural of the word zucchini is also zucchini.

This bread is almost like cake. It's a sneaky, tasty way to get my husband and kids to eat their vegetables. The zucchini tastes great and keeps the bread moist.




Mr Breakfast would like to thank HollyMartel for this recipe.

Recipe number 50. Submitted 4/24/2002.