Scrambled Eggs and Ham (Microwave)

(2 servings)

2 ounces cooked ham - diced
4 large eggs - beaten
2 Tablespoons diced onion
1/4 cup milk
1 Tablespoon butter or margarine
1/4 cup shredded Cheddar cheese
1/4 teaspoon crushed dried basil
I can't argue with the results. These eggs were fluffy and full-bodied and the ham, cheese and onions made for very satisfying flavors. The conflict I have with this recipe is that using the microwave doesn't really save any time over pan frying. By the time you've microwaved and stirred every 45 seconds, you could have easily produce the same dish on the stove top with a similar amount of clean-up. Being an old-fashioned, pan-loving fellow, I'll be making my next ham and egg scramble on the stove. However, I would absolutely recommend this recipe if a microwave is the only cooking appliance you have access to. (This recipe was submitted in 2002. It was tested and photographed in November 2015.)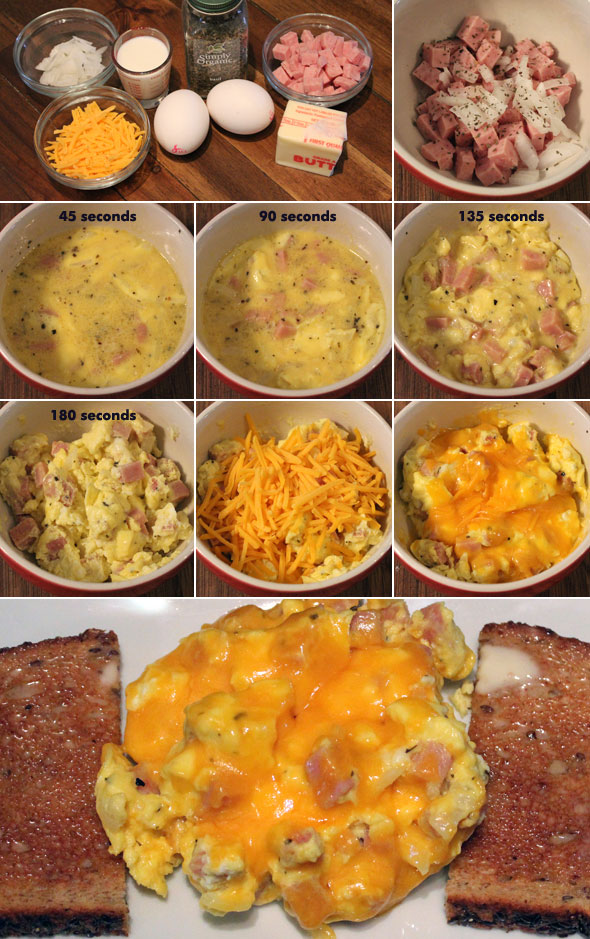 How To Make Scrambled Eggs And Ham In The Microwave

In a microwave-safe bowl (or a 7-inch pie plate) combine ham, onion, butter and basil. Micro-cook, uncovered, on 100% of power for 40 seconds until butter is melted and mixture is heated through. Stir so butter coats bowl.

Stir together beaten eggs and milk. Pour over ham mixture in bowl.

Micro-cook, uncovered, on 50% of power for 3 minutes - stirring every 45 seconds - until eggs are nearly set.

Sprinkle with cheese. Micro-cook, uncovered, on 100% power for 30 seconds until cheese is just melted.

Serve and enjoy.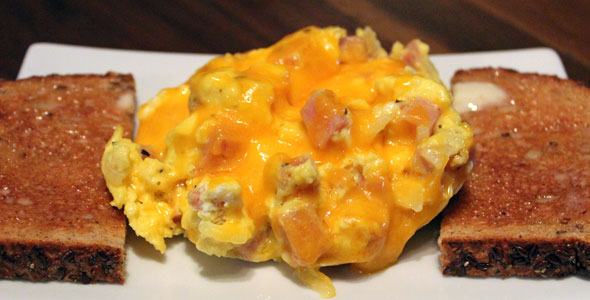 This is a microwave scramble that's very flavorful thanks to ham, cheese, onion and basil.




Mr Breakfast would like to thank baseball27 for this recipe.

Recipe number 482. Submitted 9/13/2002.