Scrambled Eggs Italian-Style

(6 servings)

1 Tablespoons olive oil
1 Tablespoon fresh basil - chopped
3 large eggs
1 Tablespoon grated Parmesan cheese
garlic bread
This is just an easy way to take regular scrambled eggs and give them an Italian accent. ("It's-a good-a to-a be-a scrambled eggs-a, mi amore!"). I added a pinch of oregano and a dash of garlic salt too. I served my eggs on flat bread that I'd spread with garlic butter. I made the garlic butter by mixing 1/4 cup softened butter with 1/2 teaspoon of minced garlic. To make this dish feel even more Italian, consider serving it with a side of warm marinara sauce. All in all, this was a tasty satisfying breakfast. It took less than 15 minutes from start to finish. (This recipe was submitted in 2002. It was tested and photographed in September 2015.)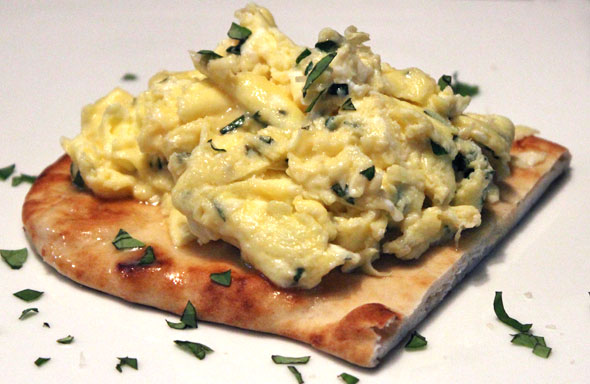 How To Make Scrambled Eggs Italian-Style

Heat olive oil in a heavy skillet over medium heat until very hot.

Beat the eggs with basil and cheese.

Add eggs to skillet and scramble them quickly and lightly.

Serve on slices of toasted Italian garlic bread.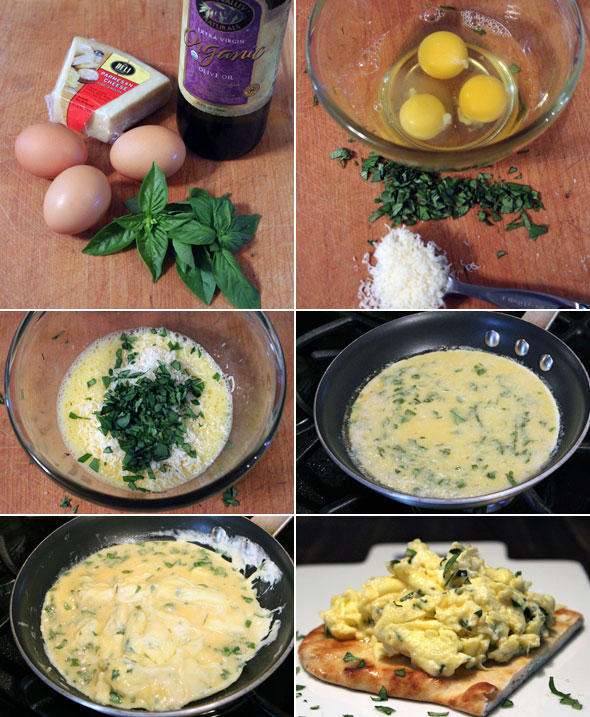 Basil and Parmesan flavored eggs cooked in olive oil and served over garlic bread. It's the taste of Italy for breakfast that you can make in 10 minutes.




Mr Breakfast would like to thank malysa76 for this recipe.

Recipe number 481. Submitted 9/13/2002.