Basic Sausage Breakfast Burritos

(8 servings)

8 large eggs
2 Tablespoons milk
8 flour tortillas
1/2 cup shredded cheese
3/4 pound ground breakfast sausage
This recipe was submitted way, way back in 2002. Since then, I've improved it and turned it into a sort of tutorial on very basic but very, very delicious breakfast burritos. For the burritos pictured here, I used a combination of Cheddar and smoked mozzarella cheese. I also added 3 smashed tater tots to each burrito. (This recipe was last tested and photographed in February 2015.)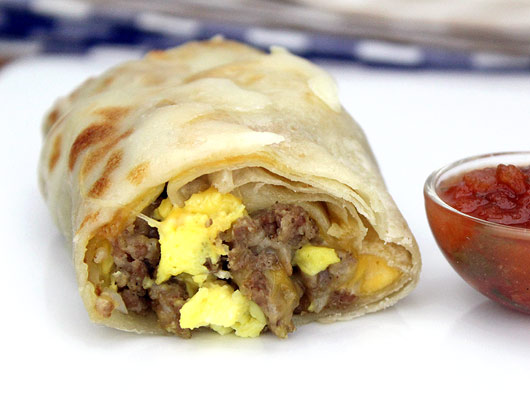 How to Make Basic Sausage Breakfast Burritos

Cook and crumble the sausage over medium heat until no longer pink - about 10 minutes. Transfer to stacked paper towels to remove excess grease.

Beat the eggs and milk together. Cook and scramble over medium heat until egg is almost completely set. Stir in the crumbled sausage and cook 1 minute longer.

For each burrito, place equal portions of egg and sausage in the center of the tortillas. Sprinkle with shredded cheese. Fold in the sides and roll forward from the bottom to form the burritos.

Serve with salsa or picante sauce.

Makes 4 large servings of 2 burritos per person.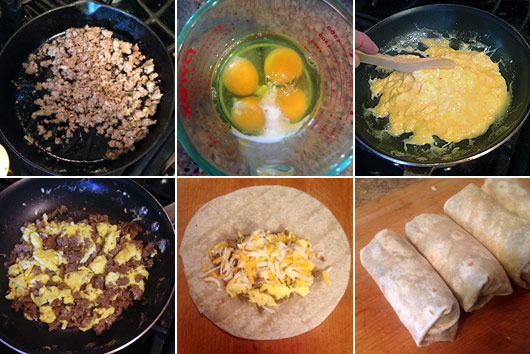 Optional Add-Ins:



Use any or all. It's best to keep total amount under 1/2 cup to keep burrito size manageable. For the vegetables, add them to the sausage as you cook it. For prepared hash browns, just layer on tortilla before folding.



- 1/4 cup sliced mushrooms
- 1/4 cup chopped bell pepper
- 1/4 cup chopped onion
- 2 Tablespoons diced jalapeno
- 1/2 cup prepared hash browns or tater tots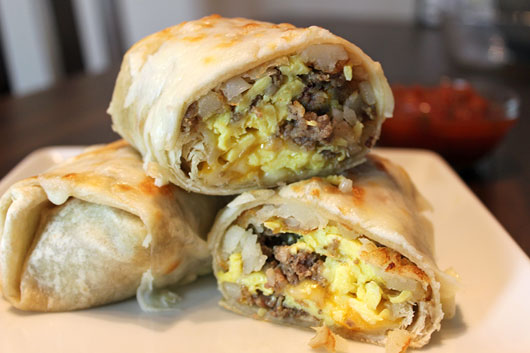 Finishing Tips:

The burritos are ready to eat as soon as they've been folded, but you might want to take it a step further. Try transferring burritos seam-side-down to a lightly greased frying pan over medium-high heat. Fry until bottom is golden brown. Turn and fry top to golden brown. This method gives the burritos a great look and allows the flavors inside to intermingle.







Alternatively or in addition to, you could also place burritos in a baking pan, top with cheese and broil until the cheese is melted and golden brown.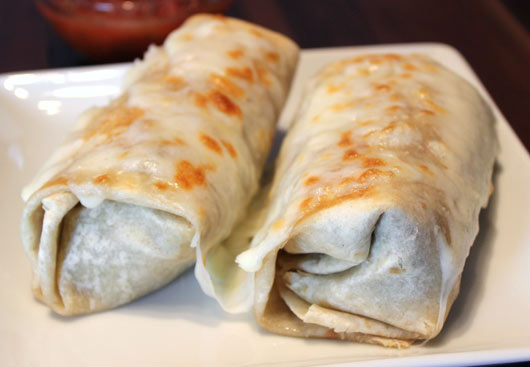 A nice basic breakfast burritos recipe that we make almost once a week. Sometimes, we replace the sausage with bacon (about 10 slices cooked and crumbled). I hope you enjoy it!




Mr Breakfast would like to thank lisajanka for this recipe.

Recipe number 464. Submitted 9/13/2002.