Overnight Coffee Cake

(15 servings)

2 cups all-purpose flour
1 teaspoon baking powder
1 teaspoon baking soda
1/2 teaspoon salt
3/4 cup granulated sugar
1 cup packed brown sugar - divided
2 teaspoons ground cinnamon - divided
3/4 cup (1-1/2 sticks) butter - melted
1 cup milk
2 large eggs
1/2 cup chopped pecans
This recipe was submitted to the site over 10 years ago by a guy named "baseball27". It's received a handful of rave review since then, so I decided to try it myself (June 2013). It turned out moist and tasty. It's a sort of working man's coffee cake - no fancy flavors, just a great standard coffee cake that comes to life when you actually eat it with coffee. One important note: It took about 15 minutes longer to cook than the directions state. I baked it for 35 minutes, covered it loosely with foil (so the top wouldn't scorch or dry out) and baked it another 12 minutes. Overall: really good. For more coffee cake recipes, see my article Cuckoo For Coffee Cake: 18 Great Recipes.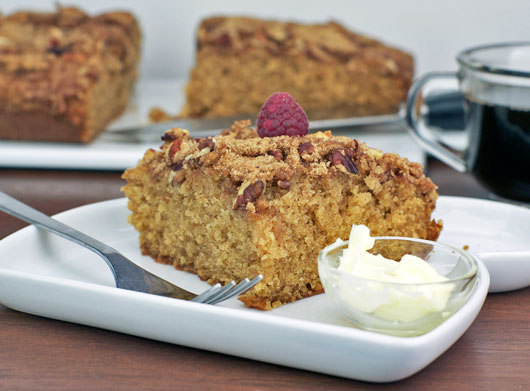 How To Make An Overnight Coffee Cake

Coat a 9" x 13" baking dish with nonstick cooking spray and dust it lightly with flour. In a large bowl, combine the 2 cups flour, the baking powder, baking soda, salt, sugar, 1/2 cup brown sugar, 1 teaspoon cinnamon, the butter, milk, and eggs. Beat until well combined; pour into the baking dish, then cover and chill for at least 8 hours, or overnight.

Preheat the oven to 350 degrees F.

In a small bowl, combine the remaining 1/2 cup brown sugar and 1 teaspoon cinnamon with the pecans. Sprinkle over the chilled batter and bake for 30 to 35 minutes, or until a wooden toothpick inserted in the center comes out clean. Cut, and serve warm.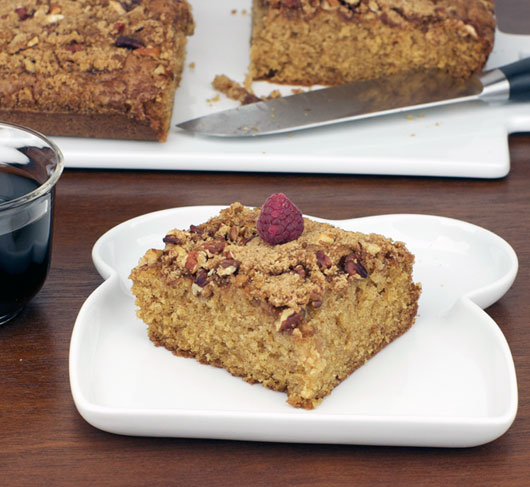 Prepare the batter the night before for a delectable, fresh, and warm coffee cake for breakfast. This is perfect for a sweet wake-up call to overnight guests or anytime you want to treat yourself after sleeping in!




Mr Breakfast would like to thank baseball27 for this recipe.

Recipe number 463. Submitted 9/13/2002.