Chorizo And Spinach Scramble

(4 servings)

2 Tablespoons vegetable oil
3/4 pound chorizo - thinly sliced
4 green onions - sliced
2 bunches fresh spinach with stems removed and leaves chopped (or 1 package washed spinach)
6 large eggs
2 Tablespoons warm water
1 cup shredded Monterrey jack cheese
I enjoyed this one. It was very spinachy. It felt more like a crumbled spinach souffle than a regular scramble - which was fun and different. For more of a traditional scramble texture, I'd recommend increasing the number of eggs by 2 or 3. The only changes I made to the recipe as submitted was to use butter instead of oil and I used a combination of Jack cheese and Cheddar cheese. Bottom Line: It was satisfying, filling and I'd make it again. (This recipe was submitted in 2002. It was tested and photographed in March 2017.)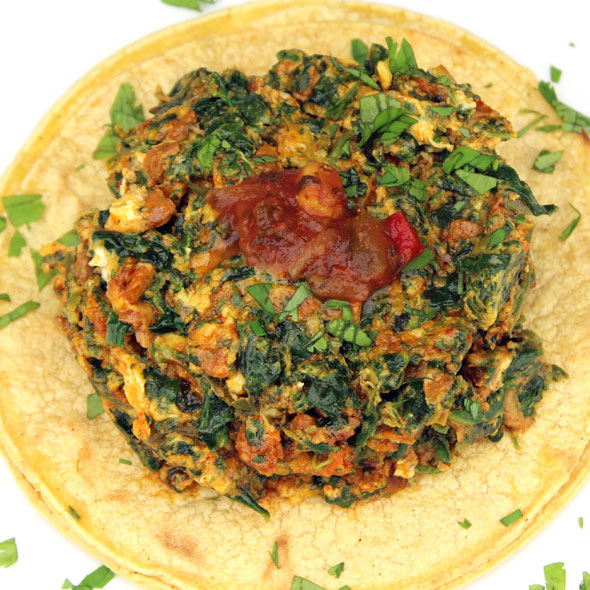 How To Make A Chorizo And Spinach Scramble

In a large fry pan over medium-high heat, warm the oil. Add the chorizo and cook, stirring until browned, about 5 minutes. Drain off the fat. Add the green onions and cook until softened, about 2 minutes. Add the chopped spinach in batches, stirring after each addition to wilt the leaves. Once all the spinach has been added and cooked down, pour off any liquid in the bottom of the pan.

In a bowl, beat the eggs with the warm water and cheese. Pour over the spinach-chorizo mixture and cook, stirring, until the eggs are softly scrambled.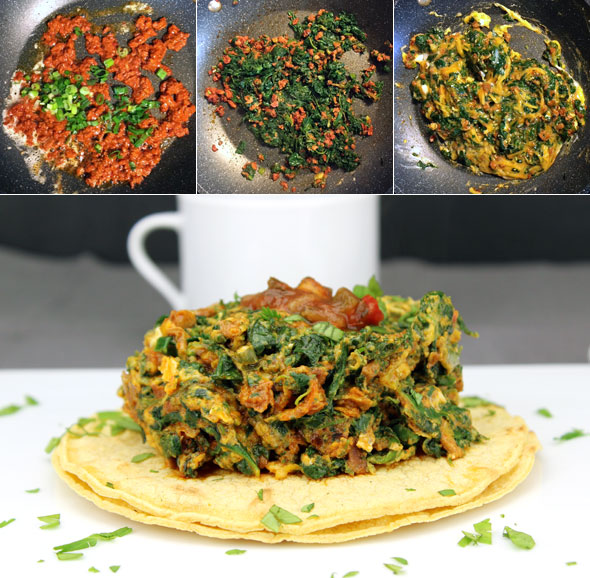 Note: If you don't have chorizo (or maybe you don't want too much spiciness), you can use regular old pork or turkey sausage and pepper to your taste.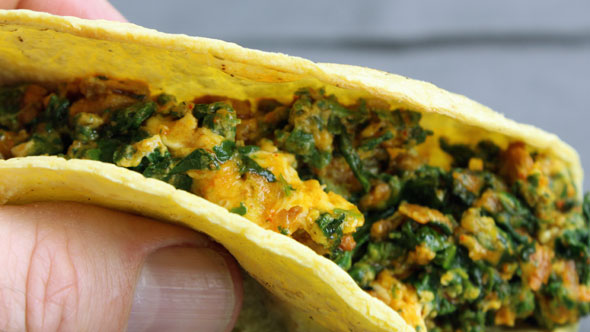 This is a version of an old San Francisco dish called Joe's Chorizo And Spinach Scramble.




Mr Breakfast would like to thank Mr Breakfast for this recipe.

Recipe number 45. Submitted 4/23/2002.