Blueberry French Toast Bake

(8 servings)

1/2 cup all-purpose flour
1 1/2 cups milk
2 Tablespoons sugar
1 teaspoon vanilla
1/4 teaspoon salt
6 large eggs
10 slices (1-inch thick) French bread - cut into 1-inch cubes
3 or 4 ounces cream cheese - cut into 1/2-inch cubes
1 cup fresh or frozen blueberries
1/2 cup chopped nuts
powdered sugar
blueberry or maple syrup
This one got rave reviews from some guests I had over. It was great that I could pop it in the oven for an effortless morning. All the work was done the night before. The bread had a moist, custard-like feel and the blueberries and nuts contrasted wonderfully with the cream cheese. I opted to use chopped pecans for my nuts. All in all, this breakfast was a big success. (Recipe submitted in 2002. It was tested and photographed in November 2013.)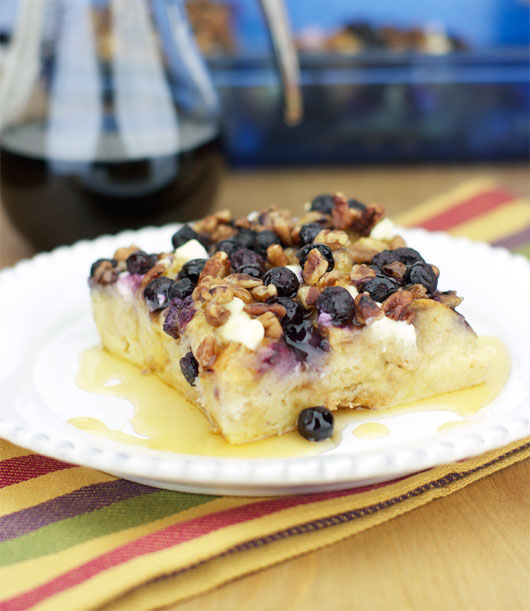 How To Make A Blueberry French Toast Bake

Generously grease a 2 and 1/2 quart casserole or 9 x 13 baking dish.

Beat flour, milk, sugar, vanilla, salt and eggs in a large bowl by hand until smooth. Stir in bread cubes until coated.

Pour bread mixture into pan. Top evenly with cream cheese, blueberries and nuts. Cover and refrigerate up to 24 hours.

Heat oven to 400 degrees. Uncover and bake 20 to 25 minutes or until golden brown. Sprinkle with powdered sugar and serve with syrup.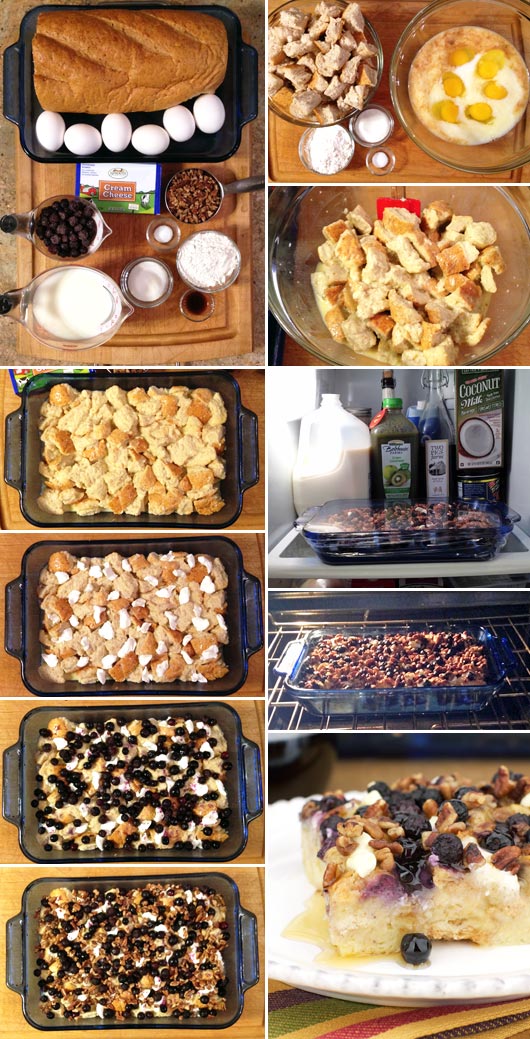 Assemble and refrigerate the night before. In the morning, bake for about 20 minutes and serve this delicious Blueberry French Toast.




Mr Breakfast would like to thank babsie for this recipe.

Recipe number 449. Submitted 9/13/2002.