Blueberry Coffee Cake

(8 servings)

2 cups all-purpose flour
2 and 1/2 teaspoon baking powder
1/4 teaspoon salt
1/3 cup shortening
3/4 cup sugar
1 large egg
1 teaspoon vanilla
1/2 cup milk
1 and 1/2 cup blueberries


For The Topping:
1/4 cup sugar
2 teaspoons flour
1/2 teaspoon cinnamon
1 Tablespoon butter
This recipe was submitted awhile ago by "cheryltoliver". I finally got around to making it over the weekend (June 2013) and now I'm kicking myself for waiting so long. This is one of the best coffee cake recipes on the site. It's loaded with blueberry flavor and the slightly crisp topping offsets the fluffy, soft interior of the cake perfectly. The only changes I made from the the original submission were to replace the shortening with softened butter and to add 1/4 cup chopped walnuts to the topping. I also added 2 Tablespoons additional milk to the batter. That wasn't necessary, but the coffee cake seemed to have just the right amount of moistness with that change. It's now 3 days since I made it and it's still as moist and delicious as when I pulled it from the oven. This is a must-try recipe.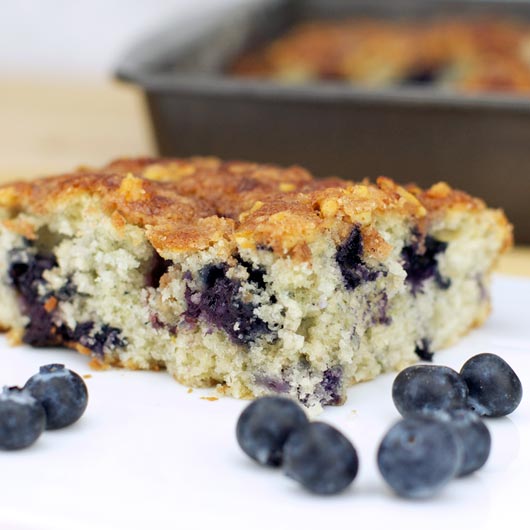 How To Make A Blueberry Coffee Cake

Mix dry ingredients and set aside. Beat shortening, sugar, egg and vanilla. Add milk and dry ingredients. Fold in blueberries. Put in greased 9x9 pan.

Blend topping ingredients and sprinkle on top.

Bake at 375 degrees for 30 minutes.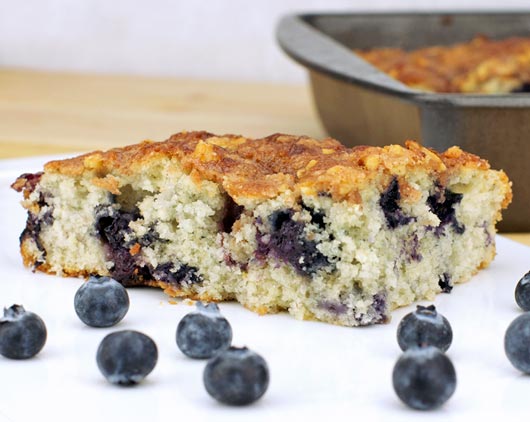 A moist coffee cake for breakfast or anytime. It's surprisingly easy to make.




Mr Breakfast would like to thank cheryltoliver for this recipe.

Recipe number 445. Submitted 9/13/2002.