Cheesy Scrambled Wraps

(2 servings)

6 large eggs
1/3 cup milk
salt and pepper - to taste
butter or margarine
1/3 cup shredded Cheddar cheese
2 large flour tortillas
salsa - if desired
sour cream - if desired
This is a breakfast wrap at its most basic. I used Garden Spinach Herb Wraps from Mission to make my wraps. They imparted a nice flavor, but the fact is that these wraps could use even more of a flavor boost. If I make these again, I'd saute a couple Tablespoons of chopped onion and bell pepper and add those to the scramble eggs. I'd also considering reducing the number of eggs to 5. I like a loaded breakfast wrap, but this one was a little overloaded. Final Impression: A good recipe that could be great with a little experimentation. (This recipe was submitted in 2002. It was tested and photographed in July 2014.)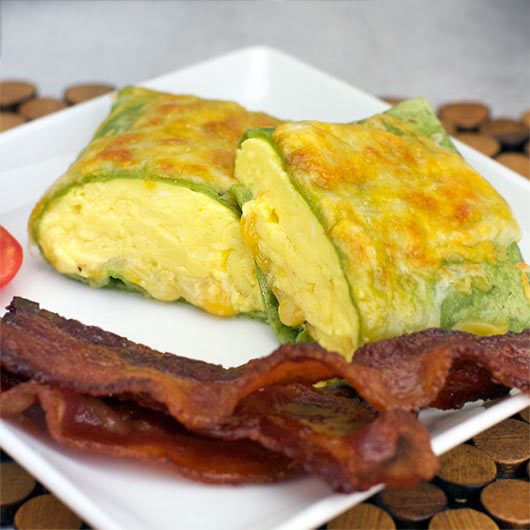 How To Make Cheesy Scrambled Wraps

Beat eggs, milk salt and pepper with a wire whisk.

Cook eggs in a little butter in a skillet over medium heat, gently lifting cooked portions so thin, uncooked portion can flow to bottom.

Cooked until eggs are thickened but still moist. Sprinkle with cheese. Spoon eggs down center of tortillas.

Fold short ends in; fold long ends over eggs. Place seam side down on plates; sprinkle with additional cheese. Serve with salsa and sour cream.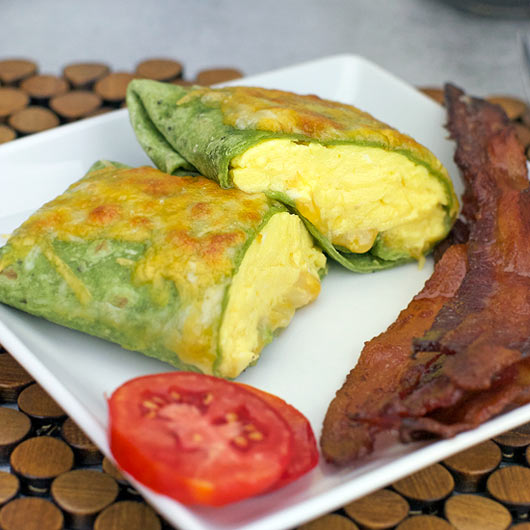 Cheese scrambled eggs wrapped in flour tortillas topped with salsa and sour cream. If you want, sprinkle more cheese over the top of each wrap and broil so each one is topped with gooey, melted cheese.




Mr Breakfast would like to thank manduboyi for this recipe.

Recipe number 423. Submitted 9/13/2002.