Quick Breakfast Casserole

(6 servings)

4 slices sourdough bread
4 large eggs
1/4 cup milk
1 pound breakfast sausage
2 cups shredded Cheddar cheese
This breakfast casserole is really good if you don't want to mess around with too many ingredients. The result isn't as pretty as some other breakfast casseroles, but the flavors of egg, sausage and cheese really shine and it's very tasty. I tore my bread into pieces and used just enough to cover the bottom of the pan. For me, it was 3 slices. Don't think you can only use sourdough. Just about any bread you have hanging around the house will work. One great thing about this casserole is that it's even better reheated the next day as leftovers. I give this one an A+ for ease of preparation and a B+ for flavor and texture. (This recipe was submitted in 2002. It was tested and photographed in September 2015.)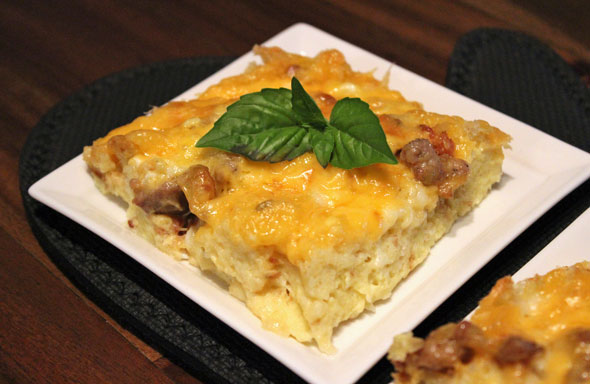 How To Make A Quick Breakfast Casserole

Grease the inside of an 11 x 7-inch or 9 x 9-inch casserole dish with butter or cooking spray. Line the bottom with sourdough bread slices.

In a skillet over medium-high heat, crumble and brown the sausage, then pour the cooked sausage over the bread.

In a bowl, beat the eggs and milk together, then pour over sausage. Top with cheese and bake at 350 F until cheese is melted and egg done to desired firmness (about 20 minutes).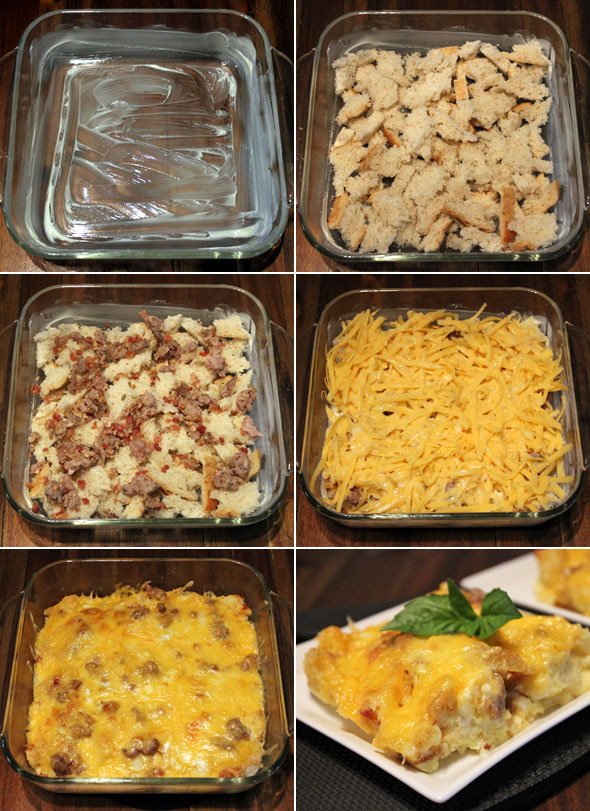 Cooking Notes:

This is a great use for bread that's starting to get stale as slightly dry bread works best here. You can use any kind of bread or any kind of cheese. We just prefer sourdough and Cheddar.

This can be prepared in advance and cooked later. In this case, make sure your cooked sausage is cool to the touch before adding it. Cover and refrigerate after all the ingredients are assembled. Cook within 12 hours. Let the dish set at room temperature for 15 to 30 minutes before baking.

Great dish if you are feeding many people. You could add 1/3 cup chopped peppers or onions if desired. Just stir them in with the beaten eggs.




Mr Breakfast would like to thank laurynlynch for this recipe.

Recipe number 399. Submitted 9/13/2002.