Cheddar Potato Frittata

(4 servings)

5 large eggs
1/4 cup milk
1/2 cup Cheddar cheese - shredded
1 medium potato - peeled
1 small onion
salt and pepper - to taste
3 Tablespoons butter
Loved it! This recipe was originally submitted under the name "Cheddar Egg Casserole". After testing it, I changed the name to better represent the results. This is a meat-free frittata but it feels like a he-man frittata. It's substantial, filling and delicious. The potatoes give it a ranch breakfast feel and I was surprised how cheesy it tasted despite having a fairly modest amount of cheese. It was easy to prepare - taking about about 15 minutes altogether. I'll be making this again. (This recipe was submitted in 2002. It was tested and photographed in March 2017.)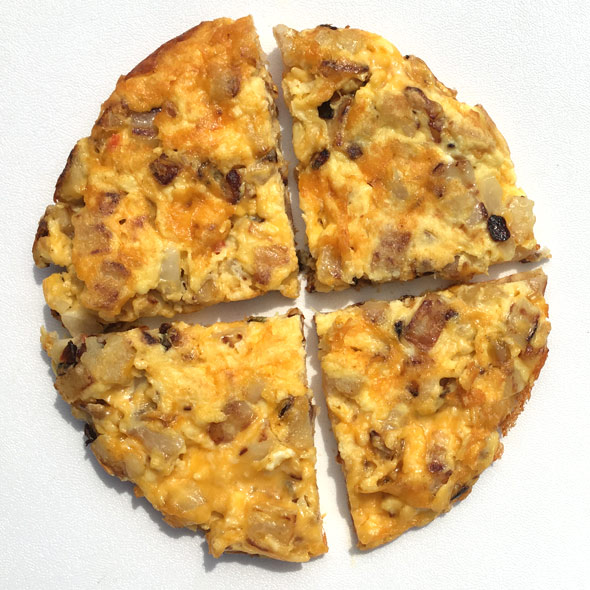 How To Make A Cheddar Potato Frittata

Beat the 5 eggs with 1/4 cup milk, salt & pepper. Mix in 1/2 cup Cheddar cheese.

Dice potato and onion. Melt butter in a 10 or 11-inch frying pan and saute vegetables until tender and browned - about 7 minutes.

Add the egg mixture to the potatoes and sir immediately. Cover and let cook 2 or 3 minutes until fully set.

Eat and enjoy.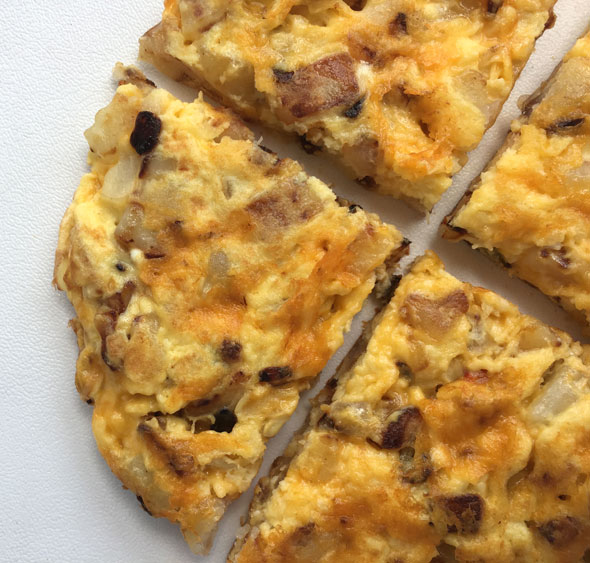 Cooking Notes From Mr Breakfast:

To assure that the top of the frittata is set, I slide the finished frittata onto a plate and then inverted it back into the hot frying pan. Then, cook for just another 20 to 30 seconds.

Instead of using a potato and an onion, you could use 1 and 1/2 cups of packaged frozen Potatoes O'Brian. Thaw first by microwaving for 2 minutes. Then, add directly to hot frying pan.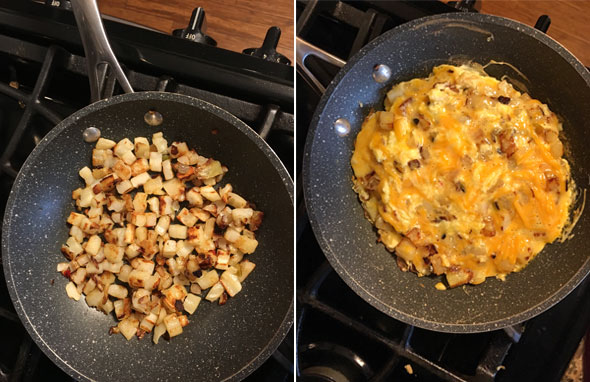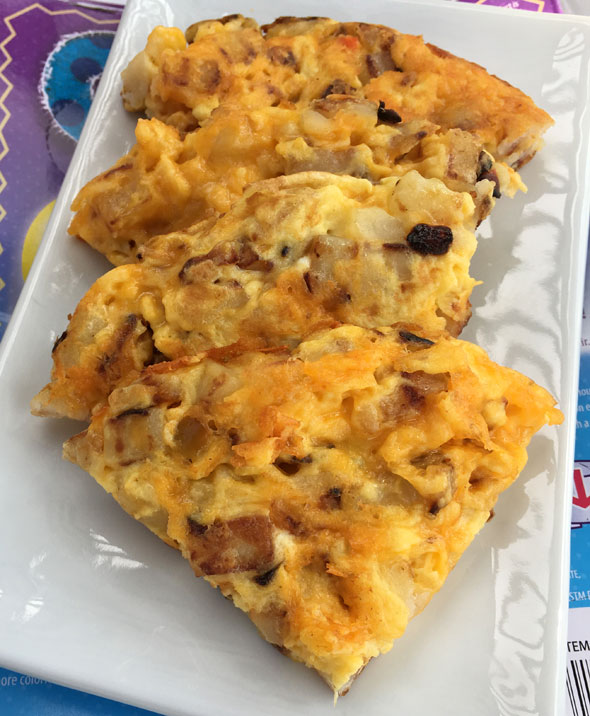 A great man-style meal of eggs, potatoes, cheese and onion. Perfect to make for brunch when you don't have a lot of time to mess with something fancy.




Mr Breakfast would like to thank meehaha for this recipe.

Recipe number 370. Submitted 9/13/2002.