Low-Fat Whole Wheat Pancakes

(4 servings)

1 cup and 2 Tablespoons whole wheat flour
1 Tablespoon brown sugar
2 Tablespoons apple sauce
1 cup and 2 Tablespoons water
1 and 1/2 teaspoon baking powder
a pinch of salt
This recipe is dairy-free and egg-free. It's also hassle-free and I didn't miss the eggs or milk much at all. I was surprised how fluffy these get for a whole wheat pancake. It's important to sift the dry ingredients. That added bit of air helps keep them from getting too dense. I might suggest adding a teaspoon of vanilla or a pinch of cinnamon to the batter to get a bit more flavor, but if you want your pancake topping to be the star, these are really good as written. (Recipe tested and photographed in August 2013.)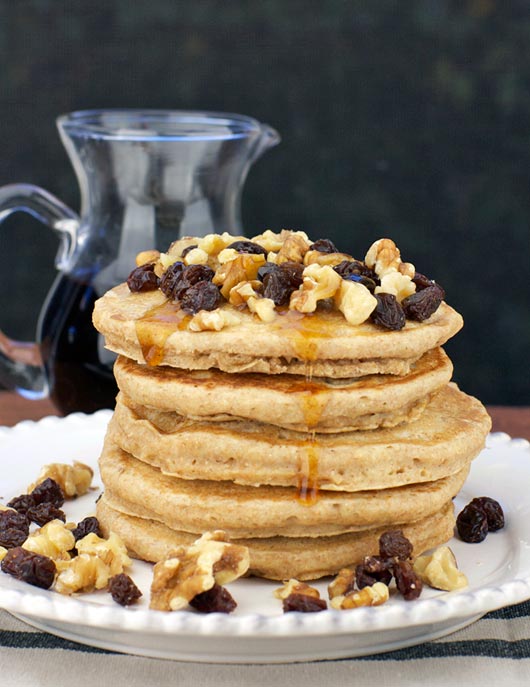 How to Make Low-Fat Whole Wheat Pancakes

Sift all dry ingredients together. Add apple sauce and water and mix until batter drips from spoon (but not too runny).

Heat frying pan and spray with low-fat cooking spray. Dip your finger in some water and flick it onto the surface of the pan. If it sizzles, go for it.

Makes about 7 or 8 cakes 4-inch pancakes.

Ladle about 1/4 cup of batter into the pan and let it cook until small bubbles form in the center. Flip. Keep completed pancakes warm in a preheated oven covered with a paper towel to keep the moisture in.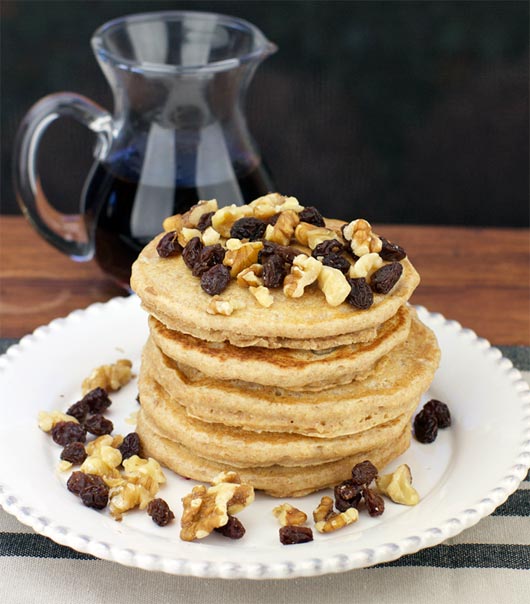 Cooking Notes From Mr Breakfast

If desired, you can replace some or all of the water with milk. For more flavor, consider adding a teaspoon of vanilla when you stir in the applesauce. A teaspoon of cinnamon mixed into the dry ingredients is also a nice touch. Some people have commented that replacing 1/4 cup of the whole wheat flour with all-purpose flour helps give the pancakes a more familiar, less-crumbly texture.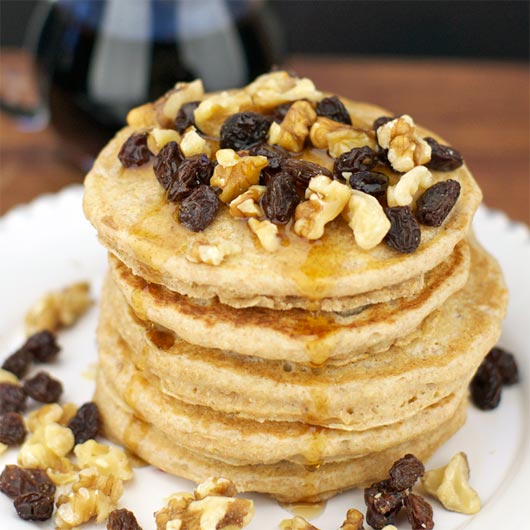 Serve with a low-fat butter substitute and low-fat maple syrup. For a special treat, make the batter with either 1/2 cup walnuts or 1/2 cup blueberries.




Mr Breakfast would like to thank Mr Breakfast for this recipe.

Recipe number 345. Submitted 8/9/2002.