Almond Peach Muffins

(12 servings)

1 and 1/2 cups all-purpose flour
1 cup sugar
3/4 teaspoon salt
1 teaspoon baking powder
1/2 teaspoon baking soda
2 large eggs
1/2 cup vegetable oil
1/2 teaspoon vanilla
1/8 teaspoon almond extract
1 and 1/4 cups chopped peeled fresh peaches or 16 oz can peaches - drained and chopped
1/2 cup almonds - chopped
This recipe is a great use for overly-ripened peaches. If your peaches are on the edge and you're thinking of throwing them out, reconsider. The more ripe the peach, the more flavor it adds to your baked goods. The only change I made to this recipe as submitted was to replace the vegetable oil with melted butter. I did find these just a little too sweet. If I make them again, I'll probably reduce the sugar to 3/4 cup and increase the peaches to 1 and 1/2 cups. This recipe was submitted in 2002. It was tested and photographed in August 2013.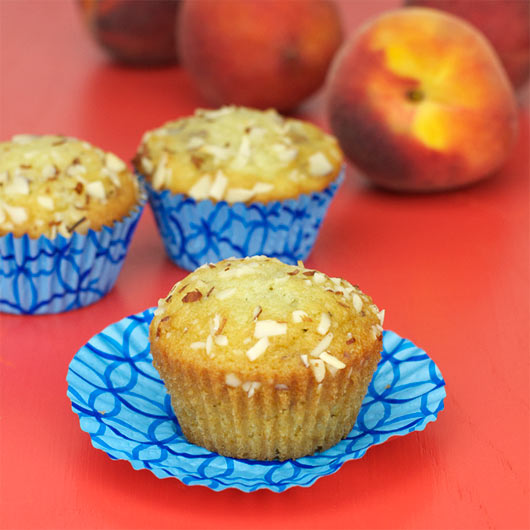 How To Make Almond Peach Muffins

In a large bowl sift together flour, sugar, salt, baking powder and baking soda. In another bowl beat eggs, oil and extracts; stir in dry ingredients
just until moistened. Fold in peaches and almonds.

Fill greased or paper-lined muffin cups 3/4 full. Bake at 375 degrees F for 20-25 minutes or until a toothpick inserted into the center of a muffin comes out dry.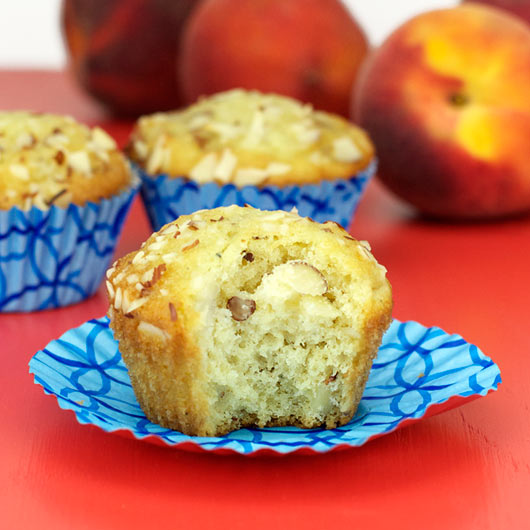 Cooking Notes:

1 and 1/4 cups of chopped fresh peaches is roughly 2 medium peaches.

You might think it's a mistake that this recipe has no milk or water. It's not. The liquid combination of beaten eggs, oil (or butter) and juice from the peaches is actually all you need. These muffins are really quite moist.

Actually the canned peaches have worked better for me than fresh ones. They add a little more flavor, but fresh peaches also work great. Enjoy.




Mr Breakfast would like to thank BethH for this recipe.

Recipe number 336. Submitted 7/19/2002.