Pecan Peach Muffins

(12 servings)

1 and 1/2 cups all-purpose flour
1/2 cup sugar
2 teaspoons baking powder
1 teaspoon ground cinnamon
1/4 teaspoon salt
1/2 cup butter - melted
1/4 cup milk
1 large egg
2 medium peaches - peeled and diced


For The Topping:
1/2 cup pecans - chopped
1/3 cup brown sugar - packed
1/4 cup all-purpose flour
1 teaspoon ground cinnamon
2 Tablespoons butter - melted
It was a great day for recipe testing. This is one of my favorite muffins I've had all year. I'm whacking myself in the head for taking so long to try it. It was submitted to the site by Beth H. back in 2002. It's 11 years later and I finally made it. The fresh peach taste was amazing and the pecan crumble topping was outstanding. The only change I made was increasing the flour by 1/4 cup so I'd get a batter consistency I liked. I strongly recommend this recipe. (Recipe tested and photographed: July 2013)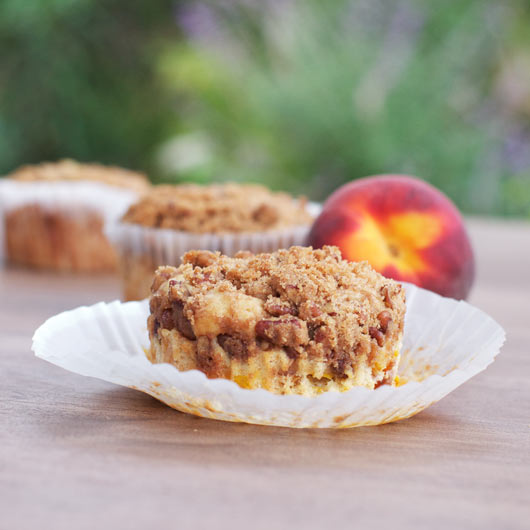 How To Make Pecan Peach Muffins

Preheat oven to 400 degrees F. Grease and flour 12 muffin cups or line with paper muffin cups. Combine topping ingredients until mixture is crumbly; set aside.

Combine flour, sugar, baking powder, cinnamon, and salt in a large bowl. Whisk together butter, milk, and egg in a separate bowl. Stir milk/egg mixture into the flour mixture and blend just until moistened. Fold in diced peaches. Spoon into muffin cups; sprinkle evenly with topping mixture.

Bake for 20 to 25 minutes, or until a wooden pick inserted in center comes out clean. Remove from pan.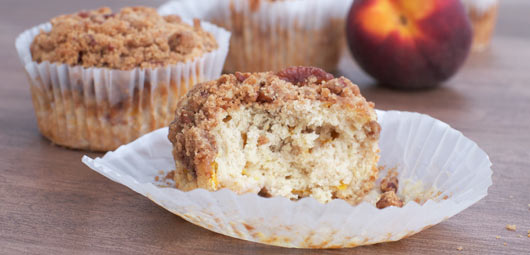 Cooking Note From Mr Breakfast:

To skin a peach, use a parring knife or a peeler to lift just a small part of the peel. Then, remove the skin with your fingers - like when you remove the shell from a hard-boiled egg.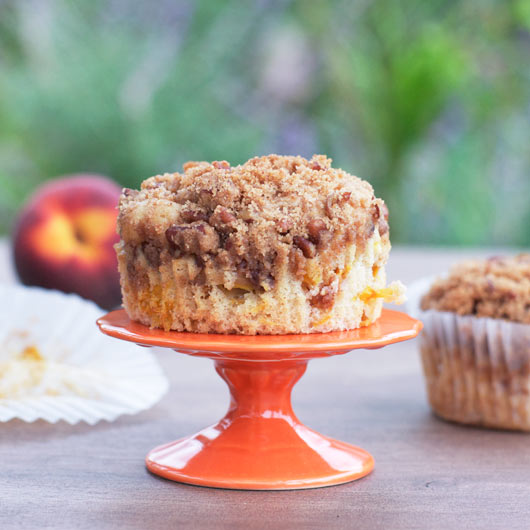 The great Southern tastes of peaches and pecans together in one delicious muffin.




Mr Breakfast would like to thank BethH for this recipe.

Recipe number 335. Submitted 7/19/2002.