Open-Face Pizza Omelette

(2 servings)

3 large eggs
2 Tablespoons water or milk
2 Tablespoons pizza or spaghetti sauce
1/4 cup grated mozzarella cheese
1/4 cup of your favorite pizza toppings*
1/2 teaspoon Italian seasoning
1/2 teaspoon vegetable oil
salt and pepper - to taste
I made my pizza omelettes with pepperoni and a combination of mozzarella and Parmesan cheeses. I used small 5-inch skillets so I'd get two very round "pizzas". A couple things I found out while testing this recipe: You don't really need the Italian seasonings in the eggs as long as you have a flavorful marinara sauce. Chop any vegetables you use into thin pieces or else they won't soften during the short cooking time. Instead of topping the skillet to melt the cheese, consider placing the omelettes under a broiler for just 1 minute. I found that to be far more effective in bringing all of the flavors together and making this omelette feel more like a pizza. (This recipe was submitted in 2002. It was tested and photographed in January 2014.)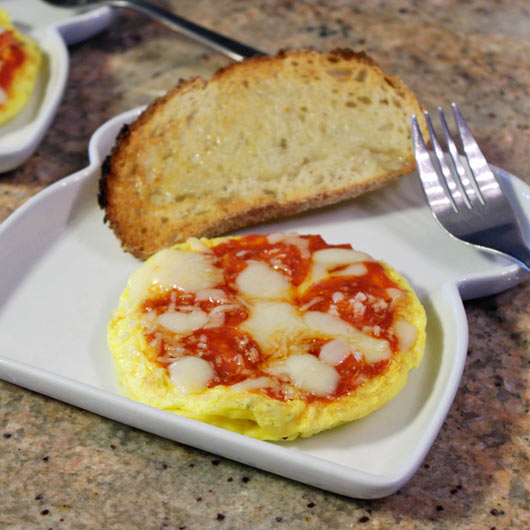 How To Make An Open-Face Pizza Omelette

In bowl, beat together eggs, water (or milk), Italian seasoning, salt and pepper.

In a medium-sized skillet, heat oil. Add egg mixture. As egg begins to set, use a spatula to gently lift edges to allow uncooked egg to flow onto skillet. When egg is almost set on the surface, spread pizza sauce over the top. Sprinkle with cheese; add toppings.

Place lid on skillet and cook for 1 to 2 minutes - until cheese melts. Slide onto serving plate.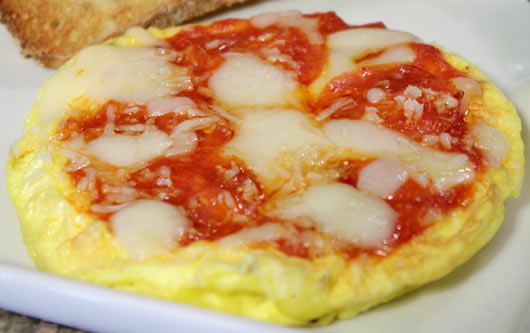 * For the pizza toppings, consider using any of the following: peperoni, cooked and crumbled sausage, sliced mushrooms, diced bell pepper or sliced ham.


Quick and easy to make - yet all my friends think I'm some kind of a super chef when I make this one.




Mr Breakfast would like to thank BethH for this recipe.

Recipe number 334. Submitted 7/14/2002.