Breakfast Tortilla Wrap

(3 servings)

1 Tablespoon butter or margarine
6 large eggs
2 Tablespoons milk
6 Tablespoons shredded Cheddar cheese or American cheese
3 to 6 slices bacon
3 large flour tortillas
salt and pepper to taste
Is a breakfast tortilla wrap the same thing as a breakfast burrito? Pretty much, but not exactly. In a burrito, the tortilla is folded over the filling one time. In a wrap, the side-edges of the tortilla are folded in and then the tortilla is rolled over the ingredients. The difference is far more noticeable when there's less filling. But that's not how I "roll". I like as much egg, bacon and cheese as I can possibly fit.

This recipe was submitted by "caroline" back in 2002. It took me a while to try it (November 2012), but I'm glad to report that her recipe is a complete success. I didn't change a thing. What you see in the pictures is her exact recipe. If you're looking for a very basic, no-frills breakfast burrito kind of thing, this is easy to make and it tasted fantastic.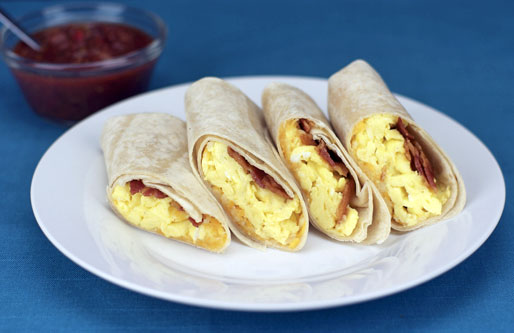 How To Make Breakfast Tortilla Wraps


In a large pan over medium-high heat, fry the bacon until browned and completely cooked. Transfer to stacked paper towels to remove any excess grease and to crisp as it sets.

In a mixing bowl, beat the eggs with the milk and a couple pinches of salt and pepper.

Scramble the eggs in melted butter in a frying pan over medium-high heat. (You could use the same pan that you fried the bacon in - just retain a Tablespoon of the bacon dripping and don't add the butter or margarine.)

On each tortilla, sprinkle 2 Tablespoons of shredded cheese. Cover with 1/3 of the scrambled eggs. Top with 1 or 2 slices of bacon. Fold the tortillas envelope-style or roll it up like a wrap. Let them set 1 minute so the cheese melts. Eat and enjoy!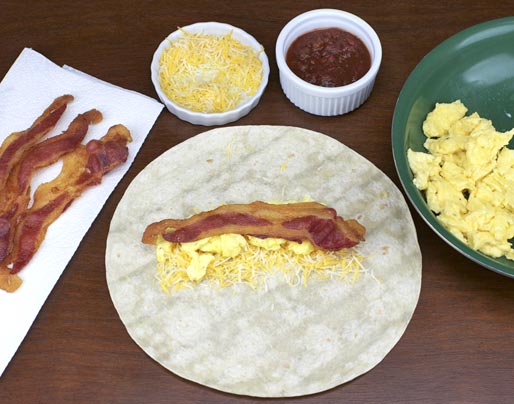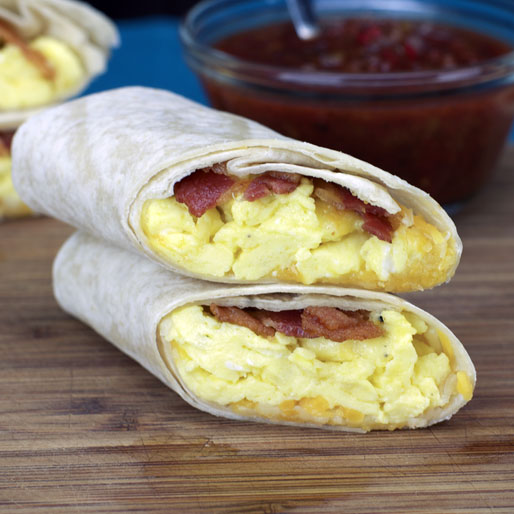 I put out the ingredients (tortillas, scrambled eggs, bacon and cheese) and let each person roll or fold their own wrap or burrito. Fun for a buffet-type breakfast.




Mr Breakfast would like to thank caroline for this recipe.

Recipe number 330. Submitted 7/10/2002.