Gluten-Free Almond Pancakes (Low Carb)

(4 servings)

2 cups of almond meal or almond flour
1/4 cup of gluten-free flour (or coconut flour)
2 teaspoons of baking powder
1/2 teaspoon of salt
2 Tablespoons of brown sugar
2 large eggs - beaten
2 Tablespoons of butter (or coconut oil)
2/3 cups of milk
1 teaspoon of vanilla extract
1/2 teaspoon of almond extract
grade B maple syrup
softened butter (for serving)
We had these for Sunday breakfast and absolutely loved them. They're denser than pancakes made with all-purpose flour, but somehow still come out with a fluffy texture. The almond flavor is certainly apparent, but it's not overwhelming which leaves room for maple syrup (or whatever topping you choose) to play a costarring role. Every pancake came out golden brown and beautiful. Word of Warning: These will fill you up. Start with a stack of two and take it from there. Bottom Line: These are fantastic pancakes. I'm going to start buying almond meal more often. (This recipe was submitted, tested and photographed in May 2016.)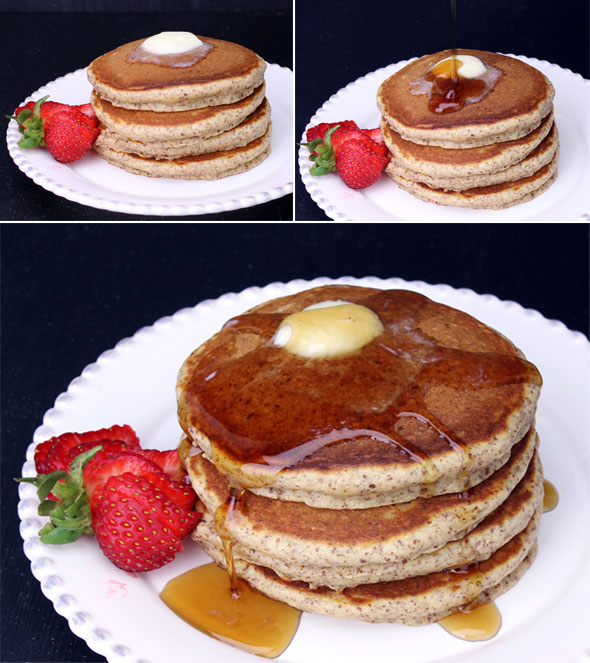 How To Make Gluten-Free Almond Pancakes

Whisk together the dry ingredients. Make a well in the center of the bowl and add all the wet ingredients. Whisk until fully mixed.

Allow the batter to rest for about 5-10 minutes while you preheat a griddle or large skillet to medium-high heat. Lightly grease the surface but wipe clean with a paper towel.

Use 1/4 cup of batter for each pancake. Cook the first side 1-2 minutes until golden on the bottom and bubbly on top. Flip and cook for another minute longer.

Keep pancakes warm in a 200 degree oven until you've made them all. Serve with softened real butter and warmed Grade B Maple Syrup for best taste!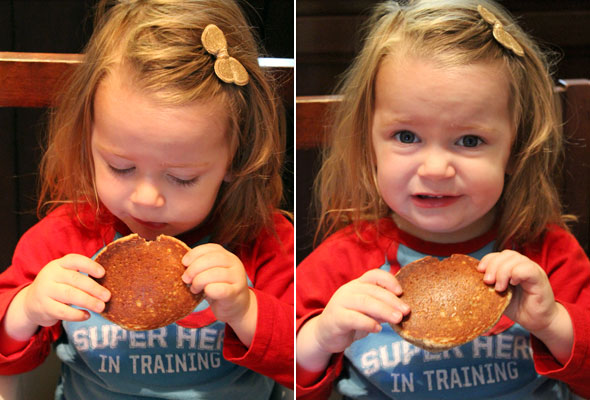 Gluten-free pancakes whose texture and taste are pretty close to the pancakes you used to love before gluten-free was a thing you cared about.




Mr Breakfast would like to thank missbreakfast for this recipe.

Recipe number 3279. Submitted 5/22/2016.